Manchester's latest offering to the DnB scene comes in the form a new label Discipline Records, founded by Antagonist (Mike) and Fortune (James). Their first release 'Discipline 001' by Antagonist features two carefully crafted half-time tracks Planetary and Life in all Forms which, living up to their titles, bring a host of intricately woven, outer-worldly sounds.
If you've heard any of Antagonist's work then the sounds of this first release will be familiar to your ears, but, distinguishable by its complexity, these tracks have to be my favourite of his to date. The sinister Planetary is drenched in reverbs which drive the eerie tone and has the second drop delivering a more upbeat side to the track through a myriad of drums and synths. This track doesn't stop evolving throughout the whole seven minutes it plays which is what makes it so appealing. Life in all Forms on the other hand is a little more dynamic. Home-grown audio samples prevail, establishing this tune as another unique addition to the release.
As is evident by the track titles, Mike is interstellar-inspired, which is a fascination many of us can relate to. He's taken the Unknown and translated it into two tunes which are intriguing in nature. It might take you a couple of listens to get your head around them, but once they've ensnared you, they've got you good. I was going to write "I don't usually listen to this kind of music" but in reality I've never heard anything like these tracks before and it's refreshing. I caught up with Mike to get a bit more insight into what inspired his work and the formation of Discipline. Plug in those headphones and take a peak below!
Hi Mike, it's great to finally have a chat about the label! I've been looking forward to this release for a while now and I can imagine it must feel good to finally have everything together. How did the whole idea come about for you and James?
It's a surreal but good feeling at the same time! There's an air of uncertainty too but that's the rush us humans enjoy, right? It's been nice to see people are keeping their eye on what's coming from us. The whole idea of the label has been a long-coming project from James. I've known James for a few years now, in early 2016 we got chatting at a night we both played at (Formless, in Manchester). From there we linked up a few times and it all gelled together. We're on the same wavelength so it works.
I've really been enjoying your first release, they're two thoughtful and unique tracks. Are these the kind of sounds the label will be focusing on?
Ah thank you, I think unique is the best compliment an artist can get. I'll be honest: these two tracks are the first two pieces I've written in all my years that have truly resonated with me. They mark a change in direction of my life both inside and outside of music. On the music side they're the product of spending a year getting to know my analogue gear better at the new studio. A few people have said it's taken them a few listens to understand the tracks, which is a positive for me. Touching on fierce drum loops, atmospheres and avant-garde ideas, yes, it's a taste of things to come. We'll see how things roll!
You are inspired by the Unknown; deep space, extra-terrestrial life – themes that you translate so well your music. What is it that you're thinking about when you produce?
Yeah it's an interest which I guess all links together – sci-fi and drum & bass have been hand in hand for at least 15 years surely, from the vast soundscapes of Vangelis in Bladerunner to the countless samples taken from sci-fi movies. Maybe it's the frequencies which drum & bass focuses on? Again, I think when I'm in the studio writing a track there's never really a plan in my mind. I'm self-taught so every session is a learning session. I like progression and telling a story with a track as opposed to 6 minutes of tear-out energy.
I'm asking this partially for selfish reasons but also because I think your production style is wicked: how did you go about teaching yourself to produce?
It's not a thing I can speak of in the past- tense as I'm continuously learning new processes, especially during the past couple of years using analogue gear. About 6 years ago I grabbed a copy of Cubase 5 from a mate, got shown the basics and then began endlessly trying to get my head around it. I've always worked simple in terms of the DAW, never using all the features it holds (lots of audio-based work for drums etc). I think identity is important. You might spend years being a "nobody" but the flashing lights and stage ain't worth sacrificing something special for. We need more Boymerangs' and not Guettas'!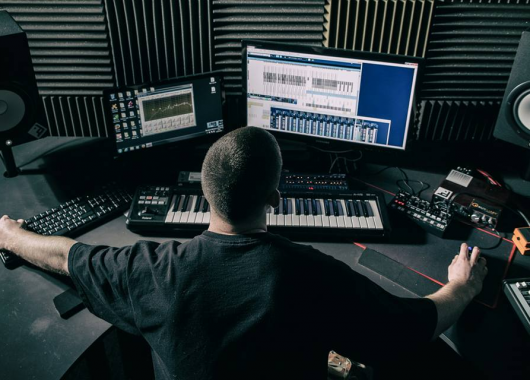 As a drum and bass lover, what's good about living in Manchester?
Somebody always wanting a sip of your water…
It happens down here in the south too!
Haha. I don't get out as much as I used to but when I do now it's a family affair; people I've not seen in months, sometimes years. Manchester has it all. It can come in dribs and drabs depending on what you're into but there's a real big family-feeling with everyone. I'm a fussy guy in my older years so not everything is my bag, but when it comes, it's real! A lot of talent is coming out of this city at the moment which means it can be a bit cliquey but everyone's on the grind. One big piece of advice: if you ever visit Manchester, do not leave without popping in to Eastern Bloc Records – it's part of the foundations.
When you mix, do you usually play vinyl or use CDJs, or does it vary?
This question could send the forum crew into a frenzy. When I play out I play on CDJs, at home it's vinyl. I often get the classic killer 12"s out for a mix now and then and I also use Traktor for spinning the digital stuff.
Ok. I'm lending you my spaceship for one journey – where will you go? (Spacesuit included)
Sirius.
Bright and beautiful – a very fine choice. Thanks for catching up with us Mike!
Cheers for having me!
– PRESS INFO –
WEBSITE: www.disciplinerecords.co.uk
FACEBOOK: https://www.facebook.com/DisciplineRecs/
TWITTER: @Discipline_Recs
INSTAGRAM: @disciplinerecords