SEQUENCES FESTIVAL // Sam Binga, Bristol & Bass
After loving every minute of Love Saves the Day Festival 2017, I just had to get another Bristol date booked in, and what better than Sequences festival on the 29th July, with its all you can eat bass line-up for under £40….Hungry!?
Sequences is a one day outdoor festival based at Motion nightclub; I don't know another venue that has managed to combine sprawling warehouse spaces, an intimate cave like setting and a never ending outdoor space all under one postcode; It's hardly surprising that Motion is currently listed at number 20 on DJ Mags top 100 clubs listing; I can't think of a better venue to host this absolutely naughty line-up: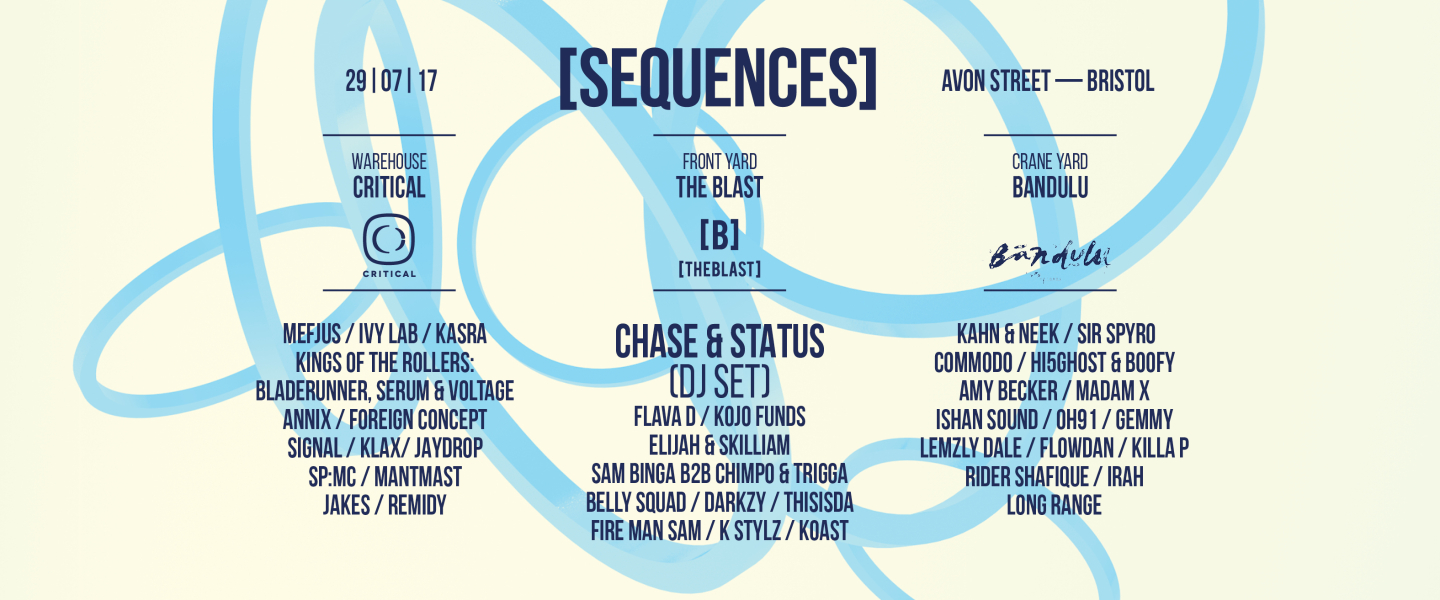 With another Bristol trip looming, I thought it would be great to catch up with local producer Sam Binga to chat about all things Bristol and bass:
Bristol was named the best place to live in Britain in 2017, as your hometown what makes the City so special for you, and why do you think it has become such a hot spot for underground music?
I'm constantly amazed at how much the rest of the world pays attention to Bristol, especially when you consider it's not even half a million people in size, and it's amazing to be a small part of such a legendary music scene here. I love that walking from my house to my studio, I can bump into Mercuy Music Prize winners, big name Ibiza house DJs, dubstep pioneers, underground techno artists, world-class festival organisers… Plus it's great to be able to head out of the studio for a break, wander across the street and listen to amazing records in Idle Hands, or dick about on the latest modular stuff in Elevator Sound. There's a great mix of people here, from posh students who get their head re-arranged by music they've never heard before on nights out, to people who've moved from across the country (like me) to be here, to the strong Afro-Caribbean community, who planted the love of a good sound system deep in the city.
You've played at Clubs and festivals all over the world, but when it comes to Bristol, where is your favourite place behind the decks?
I'd like to say two places, at opposite ends of the scale. Playing the main room at Motion, on a packed night – as me, Kasra and Hyroglifics did recently supporting Noisia for their Outer Edges live show – is totally on a par with any major club in the world. Professional sound, proper kit, and when it pops off – that same energy you feel in Room 1 Fabric on the best nights. Then at the other extreme, I've always loved spinning strictly vinyl in Cosies, which is a tiny, maybe 150 capacity basement in Portland Square in St Pauls. Incredibly intimate, with no kind of stage whatsoever, but when it's packed, sweating and everyone's locked into a vibe, it's hard to beat.
Are there any hidden gems in Bristol for chilling with food and drinks that we should know about?
My usual lunch manoeuvres involve turning left out of the studio and wandering about 50 yards up the road to Cafe Emmeline which does the best salad box around. It's so good that me and Foreign Concept have named a tune after it. If you turn right out of the studio and walk about 10 yards, you've got Poco, which is a really cool UK take on tapas, but with a huge emphasis on sustainability – so all the ingredients are hyper-local, and they pay massive attention to reducing their waste output. More importantly tho, the food is amazing, and you're right in the heart of Stokes Croft, if you want to carry on with a night out afterwards.

London and Bristol go back in History as pioneering cities pushing the underground music scene; with club closures across London, and what seems like a constant fight between nightclubs and the council, do you think Bristol has taken the lead with a more positive attitude to nightlife?
Hard to say – I do think Bristol could use more small capacity venues, but they're hard to make a living out of, and I don't think the council are giving out any licenses for such places anywhere near the centre. Really, the city which everywhere in the UK should be looking at as an example of a council seeming to actually appreciate the economic and cultural importance of the night time economy is Manchester – they seem to be leading the way in terms of a healthy relationship between venues, the police and the council.

You have been described in the past as 're-moulding' Drum and Bass, I think we can be all guilty of spending too much time trying to put music into a box and labelling it; if you could describe your own music without using any of the standard categories, what would it be?
Ha! Yeah I would never like to say I was 're-moulding' d&b, it was doing fine before I turned up and will continue to do so with or without my efforts. Obviously, jungle, and then d&b, have been hugely influential on what I do, and I will always incorporate elements of both in what I make as Sam Binga, but I think that what I find exciting is looking for different ways to approach that tempo range. There's no point me rolling out a deep, emotive, liquid groove when you've got Calibre still making amazing music within those general parameters; equally, I don't see much use in me trying to make an incredibly well-produced techy-neuro banger when I share a label with artists like Emperor and Mefjus. So I have to figure out what I can bring to the table, and that's really a question without an answer – if anything, it's a conversation between my tastes and interests, and what's happening in other areas of music that excites me. I've just realised I haven't answered the question at all though.
You have years of experience collaborating with other artists, but how challenging was it coming together as a super group of 7 for the 'Richie Brains' album? Were there any difficulties in decision making or compromises that had to be made?
The only challenging thing with Richie Brains was more logistical – getting people in the right place at the right time, getting stems off people who'd gone on tour so others could work on them, that kind of thing. The actual musical side of things came together surprisingly easily. I think everyone involved has pretty high standards, but no one was in any way a purist, which is how you end up with something like 'The Nine Two Three' on the same album as 'Splatta'.
Flex FM has been approved as a legal radio station recently, and it seems there is more room for Drum and Bass and underground dance music on radio as a whole; do you think it is down to the internet allowing music to be more easily accessible that has resulted in a wider appreciation for these genre's?
Yeah the internet has changed everything – I mean, even living in the UK it could be hard to hear the tunes you wanted to back in the day if you were outside London, and if your town didn't have a record shop, it was almost impossible to get hold of the records to play them. Now, people from across the world can plug into the culture and bring their own take to it, which is wicked. Unless their own take is shit, in which case they should stop. I'M JOKING!!! But don't be shit.
Which radio stations are best to tune into in Bristol for Drum and Bass and other underground dance music?
I'm really excited to see what happens with South West Underground – SWU.FM – which Bristol legend Koast played a big part in setting up for a trial run last year. Me and Redders had a show, as did pretty much everyone else involved in the Bristol music scene, and they're currently working on getting a full-time FM license and studio space sorted. I think that could really be an exciting development for the music scene here.

This is your second year at sequences, what were the highlights of last year?
Last year was a whole bagga vibes – obviously playing on that huge Void Neuron rig was amazing, but wandering out to the courtyard and seeing the homie Rider Shafique casually shelling over Deep Medi on the Mungos Rig was also dope. Also a shout out to the two Ben's from Klax, who spent the rest of the evening after Sequences finished convinced they'd lost their third member, Joel, who'd actually just wandered off somewhere for a pint… 'WHERE'S JOEL????' has become a recurring theme ever since. I think they're going to get him radio tagged, like some kind of weird Brightonian musical pigeon, or dolphin, so they can track his movements and discover more about his unique and elusive habits.
Do you have any exciting projects or releases coming up that you would like to share with us?
Plug time! Me and Danny Scrilla have a joint 12″ coming on Om Unit's Cosmic Bridge label – it's called 'Sam & Danny Get Weird In Munich' and it is definitely weird, so I'm looking forward to seeing how that goes down. Then beyond that, I'm just in the process of working out the final details for a big project with Rider Shafique on Critical. Can't say too much more just yet, but I'm very excited about it…
Thanks Sam, see you at Sequences!
You can of course also catch Sam at Sequences B2B with chimpo and Trigga 'running tigz' at the 'Front yard' stage, haven't got a ticket yet!? Don't worry you can still get hold of one HERE HERE HERE HERE HERE.
Hope to see you all there!
L x