When a press release reads "arguably the best work of their careers" it could be taken with a pinch of salt. I mean what press release wouldn't come out with all the delectables to draw you in? The press release is only doing its job right? But when that press release has come from High Focus Records, UK hip hop's bastions of raw honesty, and it is in reference to the legendary Verb T's new collaborative album with the man behind The Mouse Outfit's sound, Pitch 92, then you know it's time to get excited!
From Low Life Records to YNR to High Focus, Verb T has been at the forefront of everything good in UK hip hop music since the turn of the millennium never slowing his release rate and never ever wavering on the consistency of quality. Quite simply put, banger after banger! If you have not heard of Pitch 92 before reading this then I am sure you have heard of The Mouse Outfit. Pitch has been a key figurehead in the recent hip hop resurgence in Manchester, not only on the boards for the award winning Mouse Outfit but also bringing talents such as Black Josh to the forefront and creating some modern day classics with some of Manchester's finest.
Verb T is one of the smoothest operators in UK hip hop. Having already heard him paired with Pitch's funk & soul infused bangers on two tracks for the second Mouse Outfit album, as well as reading the track list of who was featuring on this project I was licking my lips at the prospect of this collaboration before I had even pressed play.
We decided to have a chat with the guys to find out more about the relationship between Owls and Mice, BVAs and Koalas, dream features and a thing or two about the album as well…
I heard this album has been about 3 years in the making? What can you tell us about the process of putting a collaborative album like this together? Was there a vision from the outset for it or something which came naturally over time?
P92: I first met Verb T properly around 3 years ago at a show we both played at. Shortly after that I produced a few tracks for him on the Mouse Outfit album 'Step Steadier'. We kept making a lot of music after that so we decided to do an actual album. I think was more like 2 and a bit years but yeah the vision probably came about summer 2016.
VT: I had a idea to do a kind of paranoid sci-fi type album, there are elements of that on here but over time I had different sources of inspiration and wanted to talk about a wider set of topics.
I am a massive fan of cubism art and Pablo Picasso in particular, so absolutely digging the album artwork. Who is the artist?
P92: The artist is called Nearski from ASM, he's from the UK originally but we both went to the same international school in Germany together and he's been living in Japan for a good few years now. Verbs gave him a brief idea about how we wanted the cover to look like and he really took it to a next level.
VT: He has worked on a lot of hip hop covers over the years, most recently Lee Scott and Dike's album Butterfly. I told him I wanted the cover to look like a crazy house party in the future and told him to take it in whatever direction he thought would work. I think he did a great job on it.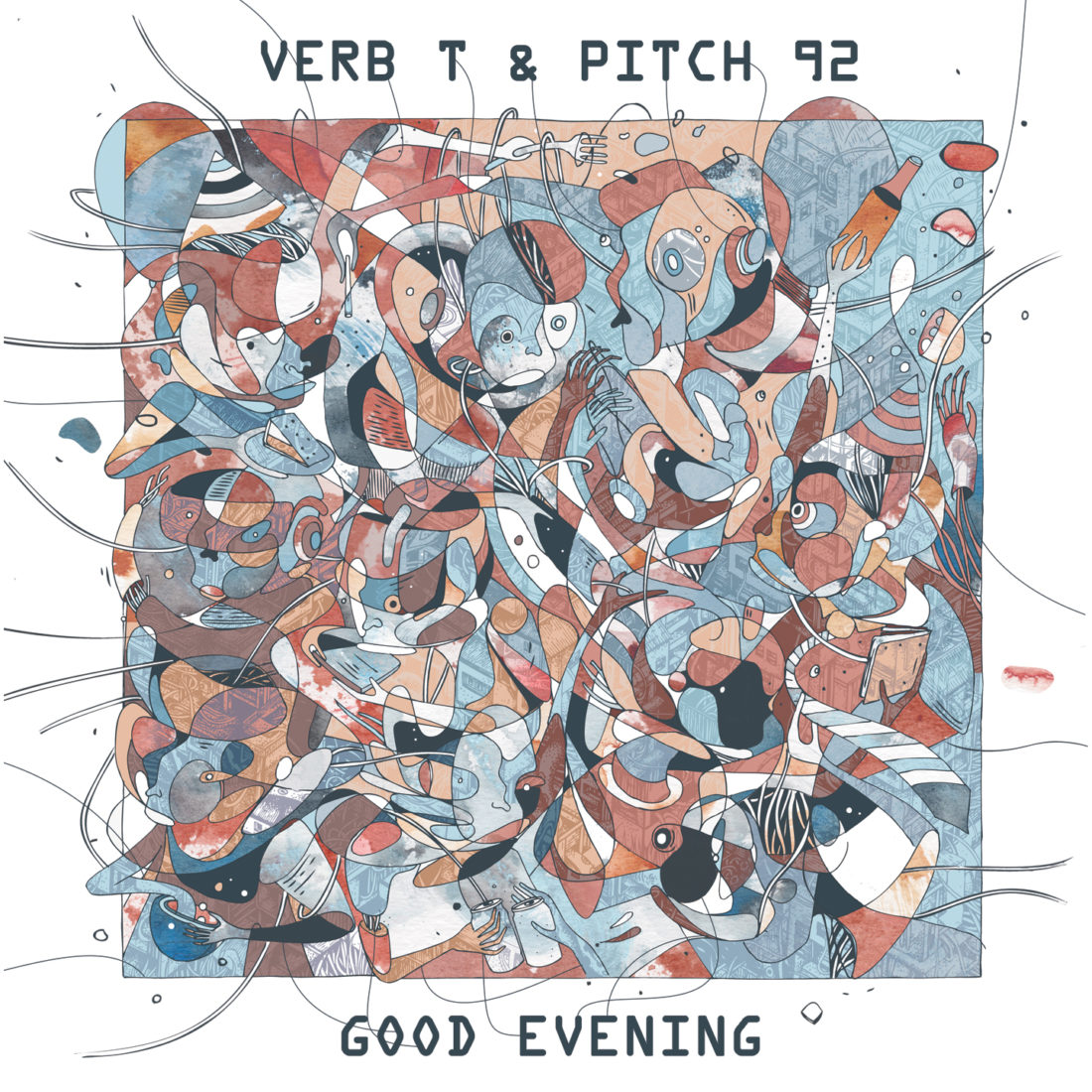 I feel the collaboration is such a good fit stylistically, the groove of the beats fits Verb's smooth style so well. Pitch how did you get in to production and what equipment is essential in your lab?
P92: I got into production when i was around 11, there were some older guys in my school who made beats and rapped etc which inspired me a lot. I got my first sampler around then which was an SP 303 and then after that it's just been MPC's. Pretty much all of Good Evening was made on the MPC renaissance. I also use other equipment like the Microkorg, Nord Stage keyboard and a couple other things.
Verbs, how do you approach your writing? After so many incredibly consistent projects over the years do you ever struggle for inspiration or take time off the writing to let life throw some more inspiration your way?
VT: I try to write everyday just to stay sharp, and keep in the habit but most of that stuff just sits in my book and I might pick out sections of it I like to expand on. With albums I need to get an initial spark of inspiration or have something I really want to say so for this album for example there are songs I wrote over really long periods of time in order for me to get them right.
The album has some amazing guest features. I was particularly excited to hear DRS on there. Any plans to follow in Del's footprints and try your hand at some vocal DnB Verbs?
VT: I would do a feature if I had the right track sent to me for sure, DRS was real cool to work with so would like to do more tracks with him in the future
So dream scenario time. If you were to put a secret track on the album (maybe there is, i have not found it yet?) and could pick any rapper or vocalist alive or dead, to feature on it with you guys who would your choice be?
P92: For me, off the top of my head would be DOOM or Pharoahe Monch.
VT: I would say Maybe Al Green but if we're going dream scenario then we would go back in time and get 1972 Al Green. In term of rappers Ghostface for a theme / story track or Royce "59 for just BARS. Also would love to work with Camp Lo.
You have both toured extensively and played shows alongside some amazing artists. You must have some hilarious road stories. Match Of The Day 2 stylee can you give us a Too Good/ Too Bad tale of life on the road please?
VT: I mainly have loads of snap shots like when we did our first boat party at Outlook and it was during a storm with lightning cracking all around us. We were pretty wrecked from being at the festival a few days, we kept getting electric shocks off the mic. There was the time I lost my passport in Australia and accidentally took a bag of weed on the flight, also me and BVA met Kangaroos and Koalas (at a sanctuary not on the flight). There was a picture taken of BVA with a Koala that got instant cult status to the point a week after we got back we had a gig in London and a guy from Melbourne was there with a print of the picture on his t-shirt. There's loads of other situations but I'll save those for my memoirs.
Any plans to tour the album and anything else in the pipeline we should be getting excited about from any of your respective camps? HF, Mouse, Owls, In The Balance?
VT: We are touring the album, got about 10 dates locked in with more to be confirmed, keep an eye on our socials for details. Plenty of good stuff to come this year and next but for now I'm just super focused on Good Evening! It's like waiting for your birthday as a kid, I'm super excited!
So to the album…
I was always under the impressions Owls and Mice did not get along but that is clearly not the case. Pitch's beats match Verb's style down to the T and the whole thing sounds effortlessly smooth, like the pair have been working with each other forever. The beats bounce with an upbeat funky stride in their step from start to finish with a beautiful use of live instrument sounds creating addictively bouncy rhythms, which we have become so used to hearing from Pitch on The Mouse Outfit projects.
Although sonically upbeat from the outset to when the credits roll, there is still a mix of emotions and themes explored in the content that demonstrate the depth to Verb's writing and prove why he has been at the top of the pile for so long. He manages to maintain a sense of vagueness that gets you listening back again and again for the hidden meanings. After talking to the Verb's and him mentioning he had started out to create a "kind of paranoid sci fi album" you can certainly hear what he means with fictional imagery laced throughout the album painting this exact picture perfectly. You can feel as the album progresses a much more personal side to his writing unravelling with strong messages of progression and positivity in the face of paranoia and self doubt. Playful yet insightful wisdom from an emcee who has been there and done that and now happy to impart these jewels of knowledge upon the listener is a beautiful thing.
I am a massive fan of album features and this one comes with a heavy dose! One might argue that too many can detract from the overall vision or flow of an album and end up becoming more of a compilation, but i feel the balance here is just right. It's a strong line up of friends from the Manchester and High Focus camps coming together in what feels like a very organic celebration of the two power houses of the contemporary UK hip hop scene. Personally i hope this relationship blossoms and we may end up seeing a Levelz member releasing a project on HF? But that's just me though right!
Overall, i concur with the press release! This could well be the pairs best work to date which says a lot considering Verb T's extensive back catalogue and speaks volumes of Pitch's production when you consider the amount of incredible producers Verb T has worked with. It's an easy listening, toe-tappingly fun album with beats that will be stuck in your head for a long time to come and hidden depths in meaning that keep you discovering new layers listen after listen.
The album comes out Friday 6th on High Focus Records and you can catch the pairs official album launch at Brixton Jamm on the 12th of October, with performances from Verb T & Pitch 92, Fliptrix, Strange U, Molotov, Moreone & Rye Shabby.
Tickets for this event are just £5 and available from here: https://www.residentadvisor.net/events/1016980
Good Evening order Links:
Physical: http://bit.ly/2x41Zby
Digital / Stream: https://highfocus.lnk.to/Good_Evening