So why are they closing down many of the legendary clubs in London? They may take our clubs… but they will never take our PASSION FOR THE MUSIC!!!
A few clubs have closed on us for good, The End, Cable and Hidden are just a few that have left us with some good memories. Time to make way for the new! The drum and bass creators, producers, DJs, MCs & ravers have always been a tight community. People are not only drawn to the bass but what the people bring to the scene. Individual creatives putting their minds and talents together to create fresh vibes. So big up all the drum and bass soldiers out there. The music keeps us going, draws us together and keeps the positivity alive. 
You know those moments where you just can't wait for the weekend to arrive? or you didn't quite make it out over the weekend due to cash flow issues? That something is itching inside you; you want bass; bass in your face; now. We caught up with Kris from Evolution. Evolution is a fresh weekly drum & bass club night taking place every Tuesday at The Piccadilly Institute, at the heart of the West End, London town.
"My personal opinion is that we have a nice little crazy vibe there every Tuesday" – Kris


Kris what inspired you to start up Evolution?
Actually I have been literally "in love" with bass & breaks since 1993, once my brother brought back home a tape. On one side it was the whole "The Prodigy Experience" album, and on the other side it was "Roots & Phuture" & "Before Dawn" from "Phuture Assasins""Feel the fury" & "I need your loving" from "NRG" "Let me be your fantasy" from "Baby D" "Edge of Madness" " Mind of a lunatic" & "Insanity Clause" from "Luna C". Once I listened to this tape I got the virus. Greece though is not the country for D&B. So once I moved to London two and a half years ago, I've always been motivated to be involved.
Time, luck and meeting the right people helped and "Evolution" is on.
When did the Evolution nights first begin?
Evolution started on the 3rd of February 2015. For the launch party we had A Guy Called Gerald, Fabio, Digital alongside residents Nookie & Phil Source and IBM from Innersoul Music. Its a date that will never ever forget as long as I live.


What is it about drum and bass music that you love so much Kris?
It's hard to explain. Basically D&B either you are going to love it or you are going to hate it. Its very rare hearing someone saying "I kind of like D&B" I am ones of the people who love it. I mean the breaks, the bass, the drums, the vocals, the riffs, everything that has to do with D&B is equal to the rhythm of life to me.


How do you think the night has developed from the start until now?
The night is building up slowly but steady. To be honest with u taking place on a school night makes it impossible for a lot of people to come down, although they want to. But the numbers are good. Music wise we couldn't ask for more. Our policy is 360 D&B. No guidelines.
Describe the vibes/night at Evolution in your own words
The venue is the Clinic Stage of  The Piccadilly Institute, right by the Piccadilly Circus tube station. In the heart of the West End. Less than 5 minutes walk from Bar Rhumba. Nights out on a Tuesday are intimate. If you are out on a Tuesday night, you definitely know your beats. Smiles, moves and friendly people is what it's all about. Dj's playing extended sets. Tuesday is my vice. Already addicted to it and I know quite a few people that feel the same.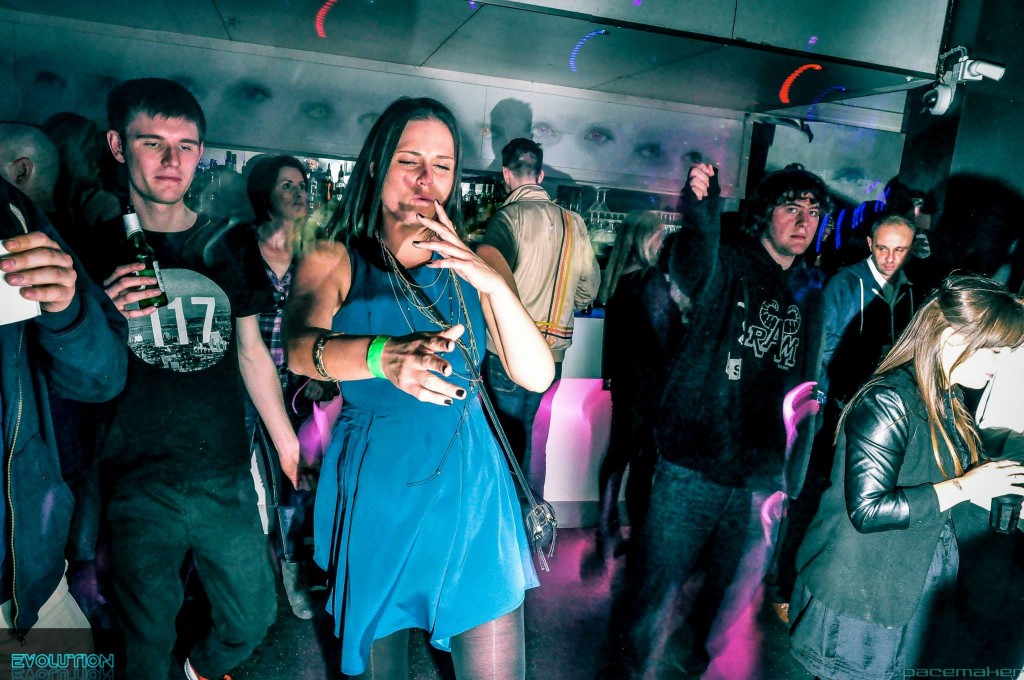 Tell us what artists have been on past line ups at Evolution
The list is quite big but here we go. So far in no particular order we had:
A Guy Called Gerald, Fabio, Grooverider, Randall, Bryan Gee, Jumpin Jack Frost, Dj Storm, Doc Scott, Digital, Spirit, Dj Patife, Nicky Blackmarket, Ray Keith, Dj Ink, Loxy, Utah Jazz, Dom & Roland, Dj Fierce, Ant Tc1, Cern, Dj Stretch, Cool Hand Flex, Gerra & Stone, Command Strange, Mark System, Zero T, Paul T & Edward Oberon, EZ Rollers, Mr Joseph, Chris Inperspective, D.M. Cut, Soul Intent, Furney, Bladerunner, MsDos, Madcap, Double 0, Mantra, Dj Chef, Tendai, Threshold, Skitty, Emma G, MsDos, S1DJ, IBM, Spindall, Medika, Ana Trif, Mark Halflite, Dj Melinki, Dj Kallista, Lady Su, Dj Dino, Nultiply, Mystic Trip, Jinx.
From Mc's we've had GQ, Moose, Cleveland Watkiss, Tali, Five Alive, Visionobi, Collette Warren. I hope I didn't miss anyone. If I did apologies, not on purpose.
Check out the up-coming line ups at Evolution, good times to look forward to
Massive shouts going out to the whole drum and bass community. If you haven't already ventured to an Evolution night, then get yourselves down to one of the following:


How difficult is it setting up a DnB event? What challenges have you had overcome?
Difficult is an understatement I think. Promoting a Drum & Bass night is like having two full time jobs but getting paid just for one. Its not about the money though. Its all about the love of music. I had the chance to add something to the music scene I have grown up listening to and I am just doing it. A big credit has to go to the Piccadilly Institute management for making my promoter life easier.


What keeps you strong and keeps you going?
The fact that suddenly I get to meet all the Dj's and Mc's that I am buying  their vinyls for more than 20 years now or had flyers with their names on; on my wall plays a major role! That punter at the end of the night, thanking for the great night he had. Having random people hitting me up online or in person and 'apologising' for not being able to make it down to the night yet, because their friends told them that they had a good time. These are the things that keep me going.


Any shout outs or big ups you would like to give?
First of all to Gavin (Nookie) for being my partner and having my back on this venture. Phil Source for being there for more or less the same reasons. Angie for her help and assistance. Russell from LD Music & Innersoul for helping me in all levels since day one. My brother from another father Leon for his faith & trust. All the Dj's & Mc's that appeared so far. I have to give special credit though to the ones that jumped in from the early stages without caring if the night is established or not.
Randall, Bryan Gee, Dj Storm, Mc GQ, JJ Frost, A Guy Called Gerald, Zero T, Mark System, Utah Jazz, Ray Keith, Digital, Ant TC1, Double 0, Dj Chef, Madcap, Visionobi, Collette Warren I salute you all ladies & gents. Pawel (former AGM at the P.I) for bringing Evolution to the venue and Alex (present GM at the P.I) for keeping the night going.
I would like to send massive shouts and respect out to Dj Bailey for running his Soul In Motion night every 2nd Wednesday at Shoreditch. He is the one basically that brought back the midweek drum & bass flavours. Great line ups and great vibes. Highly recommended. And last but not least crazy love and utmost respect for all the beautiful ladies & gents that show up. Without you nothing would ever happen.


Info Links/email
Get in touch with Kris, he'll be happy to collaborate 😉
Facebook
Twitter
Kris Korthas
Evolution Drum & Bass Events
Email: evolution.drumnbass@gmail.com
Co Founder-Promoter-Events CoOrdinator
Transparent Artists
[x_share title="Share this Post" facebook="true" twitter="true" google_plus="true" email="true"][author title="About the Author"]