There's many reasons you may be choosing to come down and party with us on Friday, but the fact Doc Scott is playing gives few people a good excuse not to. Top of the In-Reach line up, this guy comes with more than 20 years experience and we thought it was only right that we got in touch to see what's what before the big event. Here's how it went…
Doc Scott! Welcome back to In-Reach and thanks for taking the time to speak with us again, how's things?
Things are good, I'm in London tonight playing the Diane Charlemagne benefit gig at Soul in Motion – it's going to be very emotional and a special night.
I'm really busy in general at the moment, the label has releases flying out every 3-4 weeks in the run up to the end of the year and we are looking forward to out first club night in January.
Nice, we always say busy is best!
So prominent in our minds and the topic of most conversations at In-Reach HQ at the moment is of course Friday's event – We're really hyped!


You've told us before you like hearing DJ's be spontaneous and playing "on the flight" but how do you prepare for a gig? Do you bring tunes according to your current mood or try more to anticipate the vibe of the night you're going to and pack accordingly?
Well, I DJ nowadays using USBs, this allows me to carry a ton of music, new, old, different tempos and genres, so I'm fully equipped to play whatever, I never really have an idea of what I'm going to play unless it's a specific old skool set or something like that. I turn up, get a feel for the night, read the crowd for the 15 mins and off we go.



I'd be bored out of my brains if I preselected my set, I find being spontaneous to be much more rewarding.
Agreed! Any tunes that haven't left your bag for a while? What do you find is really doing the damage in the club at the moment?
Well I always carry and play a few times a year these tracks since there release dates – Gridlock – Insecticide, Skeptical & Focus – Fluctuate, ASC – Starkwood. I have a folder called 'all times faves' that has about 50 tracks in from the past 15 odd years and I always play a couple from it.
Currently, I have a little amen ripper thats coming on 31 by Deadcode called RATATATA, I started playing it on my USA tour in the summer and it has been going down a storm every time Ive played it.
You've spoken very passionately about mixing in the past and named Randall as one of your inspirations. Do you still get a kick out of mixing? What does playing out mean to you now? And do you get the same sort of buzz from it compared to when you first started playing?
Yes I do, I enjoy the art of mixing and creating a set, a journey with peaks and troughs, a beginning middle and end. To me there's an art to it and I love listing to Techno and House DJs for inspiration and they really know how to build sets, that's what I try to do in drum n bass, build, that's why I enjoy having more time when I DJ.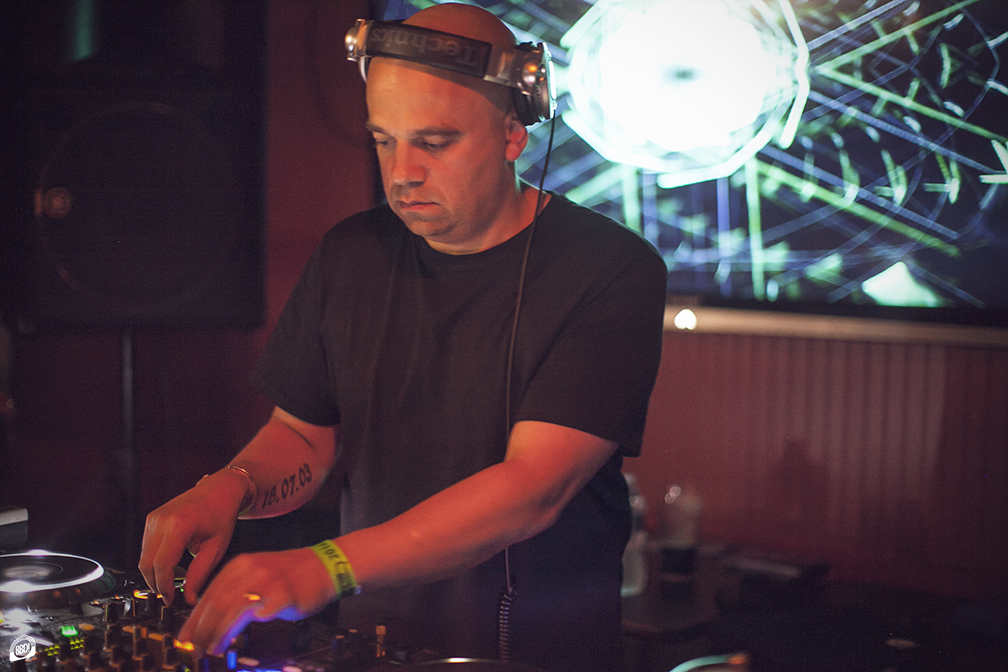 How important would you say the role of the crowd is?
It's important that they are open minded, as long as I have an open minded crowd I believe I can make anyone dance and win anybody over. I get booked to play at techno, house, dub step events and I love it, I love the challenge of winning people over. Its easy to preach to the converted, its easy to play in front of 500 fanboys, its easy to play all the popular tracks, its not easy to play something different, something challenging to an audience, but you need an open minded crowd to be able to pull it off.
I really respect your stance on what advances in technology have done in the world of DJing and I too hope the art of mixing does not become standardised and lost entirely to computer programs/software. Your preferred format for playing out is USB now then, can you elaborate on why it works for you?
I like using USB's on CDJ's, as i said earlier USB's allow me to carry a ton of music and they are really easy to navigate with when trying to find tunes, one of the problems I had with using CD's was I could never find a track when I wanted to play it which was incredibly frustrating. I don't use rekordbox as I don't need all the bells and whistles, I just create my own folder structure on each USB that works for me when trying to organise and find tracks. I like Serato too but I don't use it out as its a pain to set up in the clubs.
Ok, we'll call it a day here. Thanks again for sharing your thoughts with us. Any final things you'd like to say or share with us?
Just that we have our first 31 night called 'Future' at Lightbox, London on 08.01.2016. Its taken me 25 years to get round to doing a night but I feel the time is right and that we have something different to bring to the table in terms of drum n bass nights, there will be no 1 hour sets, all DJs will be playing a minimum of 90 mins that will give them more time and freedom to play the sets that they want to play, hopefully people will hear the difference when the DJ doesn't feel in a  rush.
The opening time will feature Kid Drama, Marcus Intalex, Commix and Vromm playing alongside myself, with the excellent SPMC and DRS on mic duties.
Sorry for the plug but thats my other job now 🙂
All good, we'll see you there in January no doubt! In the meantime people, this is pretty much your last chance to grab tickets for our event this Friday and it will probably be the only opportunity you get to see Scotty play this weekend! So don't miss out, expand the tickets box below and hit one of the links 😉
[accordion] [accordion_item title="TICKET LINKS – CLICK HERE"]UKF Live: http://bit.ly/Tickets-UKFLive
Resident Advisor: http://bit.ly/Tickets-RA
Skiddle: http://bit.ly/Tickets-Sk
Deftickets: http://bit.ly/Tickets-Def
Ticketsellers: http://bit.ly/Tickets-Ticketsellers
[/accordion_item][/accordion]


[x_share title="Share this Post" facebook="true" twitter="true" google_plus="true" email="true"][author title="About the Author"][recent_posts count="4″]