[dropcap]W[/dropcap]ith festival season in full swing and the English weather still refusing to accept that it is in fact summer, I'm sure people are looking forward to hopping on a plane to somewhere they might actually have a shot at getting a decent tan going. For many of those into their beats and bass, it's the sunny shores of Croatia that are calling as Outlook Festival's momentous opening concert draws ever closer, with less than a month to go! Those who have already visited the jaw dropping setting of one of Europe's biggest bass music festivals: Fort Punta Christo, will know that Outlook is not for the faint hearted. A solid week of dancing till the early hours, drinking for pretty much all the hours and whatever other activities you may wish to engage in can leave you in a bad place by Sunday night if unprepared. So we're gonna hit you with a few of our top survival tips that'll hopefully help get you through the week.
It's F*****g Hot Ain't It
One thing that many of us wont be used to (especially us UK folk) is the sun! Croatia is pretty close to the equator meaning it gets bloody hot, which is of course what most of us spend our summers seeking out. However the heat can cause a few problems. When you've been skanking it out till 6am because early bed times are for losers and you head back to your tent for some shut eye, you're probably going to wake up around 10am feeling like you're in the fiery bowels of hell, desperately searching for some water with the fear you may die of thirst before you find it.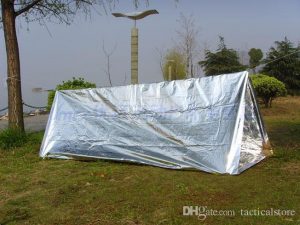 One way you can reduce the temperature in you're 2 man pop up sauna is with some heat reflecting foil. You can pick this up a Halfords or any other similar establishment for about £3. I won't go into the science but it reflects the sun light so its less hot in your tent!
Also, at the risk of stating the obvious, drink water. Drink lots of water.
Staying alive
Ok I'm not your grandma here so I'm not gonna tell you to take it easy and be in bed by 1am each night, but you are gonna need to take some measures to keep your mind and body from giving out on you at some point during the week.
It might be tempting to give the middle finger to that beach body diet you've been on for the summer and eat nothing but pizza, burgers and whatever other tantalising fast food treats you may come across. However I'd recommend swapping these out, for a few meals at least, for a visit to the amazing little fresh fruit stand you'll find on the festival site, or maybe even a salad? This stuff should give you some vitamins and other good stuff that'll help you along with those hangovers. Also, Orange juice is supposed to help replenish you're serotonin, which many of you will probably be lacking after a few days.
Loud noises
For some of you this one goes without saying, and for others it might sound like the stupidest thing you've ever heard, but wear earplugs! You might be thinking "why would I wear earplugs to a music festival?", but the sound gets pretty loud in these stages and when you're exposed to it for virtually every waking hour for the best part of a week, it can do some damage to your hearing (especially if you find yourself in front of one of the huge speaker stacks pictured on the right).
Those cheap little spongey earplugs will do the job protecting your ears but they might make the music sound pretty muffled, so I'd recommend investing about £10 to £15 in a pair made by someone like acs or Alpine, which have filters in them that mean you can still hear the music clearly. You can pick up a pair on amazon for a decent price.
Comfort
This last tip is most strongly advised for those of you who are camping, but will also come in handy while chilling on the beach. Sleeping on the ground for 4 days or more can get pretty damn uncomfortable and this won't be helped if all you've got between you and the Outlook's pebble beach is a towel. So I'd say the best course of action is to invest in a lilo, or if you're looking for that extra luxury, a blow up mattress. You can pick a lilo up on the campsite but you might get a bit ripped off by the opportunist salesmen, however after a few nights on the hard ground £15 for a lilo might not sound like such a bad deal.
So that's about all the advice I can give, I hope it serves you well through the incredible week we have to come. See you at the fort!
[x_share title="Share this Post" facebook="true" twitter="true" google_plus="true" email="true"][author title="About the Author"][recent_posts count="4″]