[dropcap]S[/dropcap]o another summer is on it's way out the door, and for those who closed theirs out on the sunny Croatian shores of Outlook Festival, the post festival blues are probably still fairly fresh. So take a little break from wondering when you'll finally be able to afford some fun again, and spend the next 15 minutes reminiscing about that wonderful week you spent in musical paradise, and for those who didn't make it this year, hopefully this will convince you to get on that 2017 ticket sign up list!
Tuesday
Those who've never experienced Outlook before could be forgiven for thinking the festival is a 4 day affair running from Thursday to Sunday, but you couldn't be more wrong. It's true that the main arenas are only open during this period, but if you don't book yourself in for the full 7 days then you're missing out on some serious parties. We arrived at the festival around midday on Tuesday and went straight to pick up our wristbands (a
fairly speedy process compared to a lot of festivals) and then set course for the beach. We had a few hours to chill with some cocktails in the sun while the finishing touches were added to the beach stage and it's incredible Gentleman's Dub Club sound system, before the party kicked off with a broad selection of dub, reggae, drum and bass, dubstep, hip hop and everything in between to set the mood beautifully for what the rest of the week had in store. As the sun slowly sank into the Adriatic and we entered Tuesday night, our attention was drawn to the absolutely awesome Beach Bar Pacino where the crowd was going nuts all night to the garage, dnb and jungle selections, with big shouts going out to Major Kaos, Spec and Dbee & Dom Antix who had the place packed to the rafters until the 4am close. It was incredible to witness such an immense atmosphere knowing the festival hadn't even officially begun yet, which is a real testament to the energy and mentality of the artists and the crowd who make this festival what it is.
Wednesday
Wednesday morning rolled around and with it came an unexpectedly severe hangover, not a good sign for day 2, but it was nothing a quick dip in the sea couldn't remedy. With the hype sufficiently built it was now time to prepare ourselves for what was to be a major highlight of the festival for me: the opening concert which featured the legendary Damian Marley performing in Pula's majestic Roman amphitheatre. We headed down to the harbour to catch the reasonably priced boat taxi; in hindsight we should have arrived earlier in order to evade the 45 minute queue, caused by the fact that there are only 3 boats which had to make several trips back and forth to accommodate all passengers. However it was definitely worth the wait, we chilled with rum and coke from the on board bar and watched the beautiful sunset for a smooth 10 minute journey to Pula harbour, leaving us a stones throw from the amphitheatre.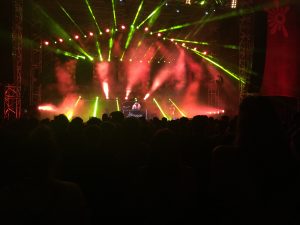 As the concert got underway I couldn't help but look around and be mesmerised by the fact that I was standing in a 2000 year old piece of Roman architecture listening to some of the most incredible live music I've ever heard. A State of Mind kicked things off brilliantly with their energetic blend of classic hip hop and reggae, coming at us with tune after tune they had the whole crowd buzzing before Slum Village took over bringing some serious live hip hop beats for us to bounce to. Even the tracks played between acts were going off with raised hands probably not even realising they were saluting the stage crew! The vibes didn't drop for one second which created the perfect build up to Damian Marley's headlining set, which was an unmissable experience. The performance was perfect from start to finish in a every aspect; from the dazzling light show, to the crisp sounds of the live band and even the constantly waving Jamaican flag that set the backdrop for the stage. A particular highlight for me was the whole crowd singing along to Damian's father's classic 'Could You Be Loved' near the end of the performance. Once Damian had left the stage the noise from the crowd was unreal! Demands of of encore rang out through whistles, cheers and the rumbling of feet against the amphitheatre seats; these were met with a euphoric rendition of 'Welcome to Jamrock' to finish off the perfect opening ceremony.
Thursday
After another little boogie down at the beach and a few hours sleep we were ready for what Thursday had to offer, and the prospects were pretty huge! We bagged ourselves some tickets for the Levelz boat party to kick off the evening at 19:30 and then there were four big stages in our sights, with Metalheadz, Just Jam, Boom Bap and Ram Jam all doing takeovers! Despite our optimism, Thursday turned out to be a bit of a failure for the crew; with only half of us making the boat party thanks only to a high speed sprint down the hill to the harbour, during which my tokens made a swift escape from my pockets. Once on the boat I then managed to lose my wallet along with a rather significant chunk of my mind as the Levelz crew caused an absolute riot with their typical shenanigans. The chaos we'd endured in making it to the boat was by far surpassed by the boisterous beats and no holds barred MCing onboard, which was rounded off perfectly with a Skitty stage dive to get everyone sufficiently hyped for the night ahead.
Upon setting foot back on dry land we realised we'd expended all our monetary resources requiring a quick trip back to the apartment to grab some more cash. On our way back we were met with the news of a venue change (which became a fairly common occurrence as the week went on). Metalheadz had been moved from The Moat to The Garden which was quite disappointing as we were really looking forward to seeing the headz crew reek some havoc in this sonically astonishing venue. However we were determined to let nothing dampen our spirits; a task made much easier by the pure vibes radiating from The Garden as the Metalheadz crew laid down a serious M
arka for the rest of the stages to live up to. Serious beats were rolling through from the likes of Lenzman and Commix who had the two hand salute from every raver in the place when he treated us to his classic 'Be true', before finishing off his set with the Dillinja's deadly dance floor deststroyer 'Hard Noize', which is a definite percy of mine and I'm sure most of you as well. But the set of the night has to be given to Dom & Roland who was delivering some certified dangerous rollers for a solid sixty minutes. If you were down the front for this set then your ears were probably in a pretty rough state the next morning because the bass was blasting out through the speakers non stop, inducing some nasty screw faces all over the place!
After a rocky start to the day we were in the full swing of things and headed to the void to catch the masterful Zed Bias play the first of about 573 sets he was billed for at the festival, and he didn't disappoint. Pristine mixing and awesome track selection had the whole arena grooving till 6am, with some awesome scenes when he dropped a ridiculous mix of his classic track 'Neighbourhood' on that incredible Void sound system!
Friday
Friday morning kicked off well after we managed to drag ourselves out of bed. A quick visit to the lovely ladies at the lost property tent reunited me with my wallet, much to the delight of the crew who no longer had to order for two on every trip to the bar. A few drinks and a shower had us fully prepared for another sunset boat party (we managed to arrive on time for this one), this time it was Just Jam
 providing the tunes. Funky sets from Crack Stevens B2B Tim & Barry and DJ Spinn had the boat rocking before DJ Barley Legal stepped up for some of her ever elating multi genre madness. A personal highlight was the whole boat singing along with MC Stamina on Marky & XRS's classic 'LK' during a wicked little drum & bass section of Barley Legal's set. Zed Bias stepped up to finish off proceedings in his typical 2 step flexing style before we reluctantly stumbled ashore. Luckily we managed to struggle up the hill from the harbour in time to catch Kano doing his thing at The Clearing. There was a hell of a lot of hype for this set, with a pretty strong grime contingent at this years festival, and the man didn't let his fans down. Things were getting pretty rowdy in the packed out crowd with mosh pits breaking out all over the place, so a bit of elbows out skanking was required, but rest assured the good vibes were shining through, with the One Love spirit of the festival being epitomised in the endearing moment when Kano stepped down from the stage to embrace his fellow artist Novelist, who was skanking it out in the front row where the party was really at!
It was then time for a quick scuttle around the festival to check out what was going down at some of the awesome smaller stages like Noah's Ballroom and The Den (places that can easily slip under the radar when getting caught up in all the hype of the main stages) before we made our way back to The Clearing post haste to catch the legendary Noisia tear up the dance alongside SP:MC. Unfortunately the dutch trio were unable to perform the live show they were billed for due to issues with equipment, but the drum & bass scientists still delivered the filthy beats and gritty bass lines we all know and love them for. This 90 minute onslaught was a definite festival highlight for those who witnessed it, as I was told by many of the people I spoke to around the festival site in the days following it. Once Noisa's set was done with we were in a dnb mood (as usual) so we decided to stick around to catch Andy C's opener. We didn't plan on sticking around for long for this set as we were expecting a lot of the more commercial drum and bass that can be associated with Ram Records these days, but every time I considered moving on, the executioner drew me straight back in with a classic riddim or some typically outrageous mix. Say what you like about Andy C these days but he still remains one of the greatest DJ's in the world and he had the whole crowd grooving for a solid 2 hours. We headed to The Moat to finish of the night with some garage courtesy of the Bump and Grind DJ's, who were sounding exquisite on the incredible Moat sound system. My feet were also pretty thankful of the tempo change; the cheap festival shoes were taking their tole at this point.
Saturday
After about 2 hours sleep and 15 litres of water we arose at 10:30 on Saturday morning to prepare ourselves for the massively anticipated Soul:ution boat party. We were feeling pretty dreadful when we made it down to the harbour for 12:30 but we soon cheered up and as we stood there, sommersby in hand with the sun beaming down on us and the soothing sounds of LSB carrying us out into the bright blue Croatian sea. As we boarded we were met with the news that DRS could not be with us due to what I believe were flight issues, but nothing could put a downer on this afternoon trip out into the Adriatic. I looked around the boat and saw nothing but smiles as LSB rolled out the luscious liquid beats before handing over to king Calibre with the man's own remix of LSB and DRS' anthem 'The View'. Not much really needs to be said about Calibre's set, it was every bit as glorious as I'd imagined and there aren't many things I wouldn't do to relive that hour of my life. Marcus Intalex followed with some heavier beats, dropping a filthy blend of Digital & Spirit's 'Phantom Force' and arguably one of Calibre's finest remixes 'Signs'. When we returned to the harbour I could barely bring myself to get off the boat, I had definitely just experienced 3 of the finest hours of my 21 years on this planet, and as we stood around and chatted to our fellow ship mates about what we'd just witnessed, it was clear that I was not alone in this feeling.
We wound down in the afternoon with some dub and reggae vibes down at the beach and then went to prepare ourselves for another full night of drunken dance moves and questionable decisions. It was the Hospitality and Playaz stages that had our attention this time with each of the labels celebrating their 20th year in the game! High Contrast's set was a real vibe builder down at The Clearing; it was pretty special hearing him drop some of his classics including 'If We Ever' with those magical vocals from the late Diane Charlemagne who sadly passed in October last year. Down at the Playaz takeover, which like Metalheadz had been moved from The Moat to The Garden due to capacity issues, things were getting a lot more heavy as the jump up master Hazard stepped up to the decks. I must say I'm not quite the jump up aficionado I was in my teen years, but hearing Hazard tear it out with all his classics like 'Killaz Don't Die', 'Psychedelic' and the more recent 'Bricks Don't Roll', which was getting dropped by DJ's all over the festival, brought a huge smile to my face, and the crowd were absolutely loving it. As we entered the early hours of the morning it was the turn of the grandfather of them all DJ Randall to give the decks an absolutely savage beating as per usual. Classics like his own personal edit of M Beat and General Levy's 'Incredible', Dillinja's 'Nasty Ways' and the seminal 'Turbulence' by Moving Fusion blasted out of the monstrous sound system causing some literally wild scenes, with one geezer even swinging from a tree on some sort of mad monkey skank vibe!  Once again the place didn't stop jumping till 6am; when you're at Outlook, it never does.
Sunday
So we've finally reached the final day, and with no boat party booked we knew there was only one place to be, and that was down at the beach for round two with the Soul:ution crew! Thankfully this time MC DRS had made it for his afternoon performance and boy was it special. He brought pure vibes along with the incredible live band who brought all of DRS's classic tracks to life in what was a truly fantasti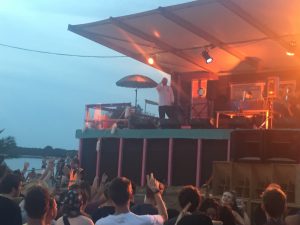 c musical performance. DRS was also joined by lyrical talents of MC Fox and the wonderful vocals of the extremely talented Tyler Daley whose performance of 'The View' had the whole beach singing along in what was one of the most special moments of the festival. Another selection master class from the head honcho Marcus Intalex followed and it was an absolute treat to skank out to some proper rollers on the awesome sound system that was set up on that beach stage, while SP:MC hosted like a true pro despite barely being able to speak! As the sun set on the festival for the final time, there was no other DJ I would have picked to grace the decks than Calibre. This was a really emotional set with Calibre coming out with some really moving tracks like his remix of Spectrasoul's 'Away With Me', as well as some of his more gritty music i.e. the screw face inducer that is 'Strumpet'. One track that really stood out though was his and Marky's banger 'Amen Tune' which DRS was forced to demand the reload of. Once again the soul:r crew producing nothing but smiles on faces and moving feet while they roll out their wonderful music. Salute!!
And so we entered the final night of music in the arenas, and it was set to be a big one. Our night kicked off at The Clearing where the Kurupt FM boys were causing havoc. These guys really know how to party as they showed anyone who was lucky enough to bag a ticket to their boat party on Saturday which looked like a ridiculous amount of fun! It was much of the same at the main stage on Sunday night with classic garage tunes alongside Grinda and Beats getting the crowd hyped up with their endless energy and irresistible waffling. They were the perfect prelude to the highly anticipated Stormzy, who by some wonderful coincidence, ended up playing his set during a pretty crazy thunder storm! In all honesty Grime isn't usually my thing, but there was such a buzz that even I was pretty hyped for this set, and the man from South London did not disappoint. The torrential downpour did nothing to phase the artists or the crowd who kept skanking just as hard as they had all week right till the end. Once Stormzy left the stage, he took his namesake weather pattern with him (for a little while anyway) as the rain began to clear a bit. It was then time to hit The Void for 15 years of Dispatch Recordings where label boss Ant TC1 had taken to the decks. The tunes were out in full force for this one as we were hit with techy rollers, hard beats and aggressive bass lines in true Dispatch style. The time was flying by at this stage as a few hours rolled by in what seemed like 10 minutes, and we didn't stop moving for a second. As the rain began to fall again we agreed it was time for a quick snack break. After a quick visit to the burger bar we headed back to the clearing where Zed Bias was going back to back with Hatcha and Crazy D, perfectly rounding of the festival with a lawless multi genre mash up. Tracks like Lyn Collins' 'Think', Bob Marley's 'One Love', 'Drop it Like its Hot' by Snoop Dog and just about everything in between, all mixed to perfection made this set one of the most enjoyable of the whole week and made it all the more emotional when we realised the festival had come to its end.
Monday/Tuesday
We were definitely feeling pretty sad that things were over on Monday and one more night at Beach Bar Pacino just didn't feel like enough. We checked out of our apartment on Tuesday morning and headed down to the beach to spend the remainder of our tokens on what food they had left at the various stalls, which sadly wasn't much. As we sat on our suitcases on the empty beach eating 3 portions of chips, an unwelcome dose of pathetic fallacy set upon us as the rain began to fall once more and our week in one of our favourite places on Earth officially came to an end. But as they say, don't be sad thats its over, be glad that it happened!
Hopefully I haven't depressed you too much, and if you are still feeling the blues, there's only one remedy. Get ready for next year! See you in 2017 people. Peace and love x
[share title="Share this Post" facebook="true" twitter="true" google_plus="true" linkedin="true" pinterest="true" reddit="true" email="true"][author title="About the Author"][recent_posts type="post" count="3″ orientation="horizontal" fade="false"]