[dropcap]A[/dropcap]s we drudge through the winter months, slowly creeping towards the summer, sometimes we need to look ahead to whatever holidays, festivals or general debauchery we have planned later in the year. For those lucky enough to be sitting at their desk daydreaming of the sunny musical paradise that becomes of Fort Punta Christo as the Outlook and Dimensions crew roll in to town, there's something very special in store. The first line up announcement for Outlook hit us a couple of months back and it's already full to the brim with unmissable artists from across the board of bass orientated genres, with the only problem being that you can't see them all! With this in mind, we've decided to give you a helping hand with our top 5 acts you won't want to miss.
OneMind
We'll begin with the drum and bass duo of DLR and Mako who have recently come together as OneMind. The two production maestros are bringing us a hugely exciting live show at outlook this year, which is sure to be a musical masterclass. Both of these producers have firmly solidified their spots among the most talented in the drum and bass scene with countless releases of the highest quality on some of the most revered labels in the genre, such as Break's Symmetry Recordings, Dispatch, Metalheadz and Mako's own imprint Utopia Music, just to name a few. We've seen several collaborations between the two in the past, always with devastating effects, and their first EP as OneMind is finished and coming "fairly soon". However this is the first opportunity we'll have to catch their live performance so it's not one you want to miss.
 Akala
Next up we're switching over to the UK Hip Hop scene with the supreme lyrical teachings of Akala. This London MC has been spreading his words of wisdom since his debut release alongside Ms. Dynamite: 'Get Up, Stand Up' back in 2002. Akala is an artist who uses his music to spread meaningful, thought provoking messages through intelligent lyrics and intricate rhymes, which combined with his captivating flow creates a live performance that's a real musical journey. Catching one of the most talented MC's the UK has to offer in a setting like no other in the world is an opportunity that can't be passed up, so make sure you're there!
A-F-R-O
Hopping across the pond now with one of the most exciting young Hip Hop talents we've seen in many years. At just 18 years old, All Flows Reach Out (aka A-F-R-O) has been causing a massive stir among Hip Hop fans around the world since winning R.A. the Rugged Man's open rap contest "Definition of a Rap Flow" at just 16! He has a style that takes you straight back to the 90's, with a deep bass to his voice akin to the sounds of Jurassic 5 or Biggie Smalls, creating a sound that's almost unique in today's scene. On top of his old school style, A-F-R-O possesses  flow, lyricism and speed that seem to be unmatched  by any rapper out there. If you haven't already been taken in by this young prodigy's incredible music, then I strongly recommend you get listening to what is definitely going to be one of the most memorable acts at Outlook this year.
[soundcloud url="https://api.soundcloud.com/playlists/166410576″ params="auto_play=false&hide_related=false&show_comments=true&show_user=true&show_reposts=false&visual=true" width="100%" height="450″ iframe="true" /]
A-F-R-O Tales From The Basement soundcloud
Congo Natty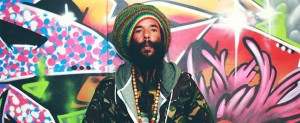 One breed of raver who is always well catered for at Outlook festival is the junglist. Whether you're relaxing on the beach or throwing some questionable shapes down at the moat after a few too many rum and coke's, you're never far from some jungle goodness, and one such act you're not going to want to miss this year is Congo Natty (aka Rebel MC). Congo Natty has been involved in the jungle scene since its origin with releases dating back to 1995, solidifying his status as a veteran of the genre. With his smooth blend of classic jungle, fresh new ragga drum and bass beats and perfectly timed reggae interludes,  Rebel MC and his crew never fail to bring the vibes and get the crowd bouncing. So whether you're a certified junglist soldier or just want some music that makes you move, look no further.
Eliphino
For our final selection we thought we'd drop the tempo for one of Outlook's main house music representatives, Eliphino. Appearances at Dimensions festival each year since its conception, alongside numerous performances at Outlook have seen Eliphino become something of a resident down at Fort Punta Christo, and it's easy to see why. His tight mixing and next level track selection bring an almost hypnotic atmosphere to his sets, which he seems to be able to adapt to any crowd with ease. With much of the focus at Outlook being on the drum and bass, hip hop and garage side of things, it's easy to let the house sets slip by, but this is one you're going to want to make a note of once you get a glimpse of that daunting list of set times.
So those are our picks so far, but lord knows there'll be plenty more surprises in store for us yet. Head over and check out the full first line up announcement here, and if you haven't bagged yourself a ticket yet, get moving! You can cop your tickets here. See you in Croatia 😉
[share title="Share this Post" facebook="true" twitter="true" google_plus="true" linkedin="true" pinterest="true" reddit="true" email="true"][author title="About the Author"][recent_posts type="post" count="3″ orientation="horizontal" fade="false"]