In the run up to our biggest event to date, we decided to send one of our writers down to The Brewhouse to check out their craft beers and the space we are commandeering TONIGHT. We met up with some of the management from London Fields Brewery down at the venue to sample some of their offerings on the night and to shed some light on the unique stories behind each of their brews. You lot are not going to be disappointed! Long are the days over where you pay £5 for a warm can of Red Stripe in the dance…
Getting out at London Fields Station, walking alongside the rail arches up to the venue, we soon stumbled across The Brewhouse. The hype grew as we scaled the outside of the venue. We met up with James, the events planner who took us inside to give us a teaser of whats to going to be kicking off on Friday. As soon as we walked in, even without music playing, we were plunged into this intimate, raw brick covered space with a bar adjoining and illuminated bottles lining the walls. The venue is stripped back to the basics, no fancy gimmicks which is what we love about it. Check out the Promo video here********!
After having a recce of both arches, we moved across into their tasting shop 'The Tap Room'. Here we were brought a selection of all their beers which will be available to purchase on the Friday. Each distinguished with a quirky name and even quirkier artwork (provided by the designers next door) we lined up the beers and proceeded with the tasting session!
LFB Craft Lager (4.1%)
Starting with the sole lager brewed by London Fields Brewery, the LFB Craft Lager is a not your average bottle. Coming from the opposite direction to the mass production method of 'killing' the hops to produce one uniform taste, LFB have created this old school flavour, taking it right back to the the foundations of lager brewing. Bringing Perle hops right into the fore front of your tastebuds, this crisp, refreshing lager is one for everyone!
Draft: Yes
Price: £5 per pint
In-Reach rating: 7/10
Easy IPA (5%)
Originally made for spicy foods restaurants, this complex yet mellow ale has turned into one of LFB's most popular beers. Wanting to brew something that was dark yet wasn't pale ale, they created this beauty! With an 'easy' taste that shouts citrus aromas and bitter yet clean hops, we are sure this is going to be a big seller on Friday.
Draft: Yes
Price: £5 per pint
In-Reach rating: 9/10
3 Weiss Monkeys – White IPA (5%)
We told you they had quirky names! This fusion beer has the body of a timeless wheat beer, with heart and classic finish of an old fashioned IPA. Keeping the beer bright, never cloudy – the flavours from this beer are ridiculous! If you enjoy a Hoegaarden or Erdinger, look no further than a pint of the 3 Weiss Monkeys.
Draft: Yes
Price: £5 per pint
In-Reach rating: 8/10
Hackney Hopster – Pacific Pale Ale (4.2%)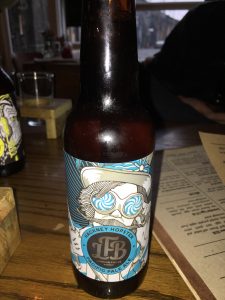 The Hackney Hopster takes its brewing process back to the methods used in the micro breweries of America. Created in 2011, this East London character beer has a refined yet classic taste that has the essence of Hackney in every bottle. Definitely more of a session beer this one, you don't need to worry too much after having a few of these.
Draft: Yes
Price: £5 per pint
In-Reach rating: 9/10
Shoreditch Triangle – IPA (6%)
Connected between Shoreditch, Old Street and Hackney, The Shoreditch Triangle is the strongest beer available here. It has a more full bodied and sweet taste, a combination American flavour with a trademark British finish. At 6% we would recommend going easy on these ones!
Draft: No
Price: £5 per bottle (330ml)
In-Reach rating: 8/10
Love Not War – Red Ale (4.2%)
Created during the London Riots, staff were barricaded inside the brewery. They took it upon themselves to use the time to create a beer that pays homage to peace & love, and what a job they have done. This Amarillo beer has a union of hops & malt which give out flavours of pear & caramel, a perfect winter brew!
Draft: No
Price: £5 per bottle (550ml)
In-Reach rating: 8/10
Of all the beers we tasted today down at the Brewhouse, we couldn't decide on our favourite! There is so much choice there for every type of beer drinker, you won't be disappointed 😉 Massive shouts to James & Ian for the hospitality.
We hope to see you all on Friday!
TICKETS:
RA:  https://www.residentadvisor.net/event.aspx?898273
Skiddle:  https://www.skiddle.com/whats-on/London/The-Brewhouse-London/In-Reach-Beats-In-The-Brewery/12872359/