UK Rapper/Producer, full time alcoholic and sex-pest, Dirty Dike is on a mission to invade our ear canals once again with this, 'Sucking on Prawns in the Moonlight,' his latest effort. Having burst onto the scene with two middle fingers to the sky, Dirty Dike forced even those outside of the UKHH spectrum to pay attention. His trademark anti-social and larger-than-life attitude immediately turned heads back in 2011, with tracks like 'Hi I'm James' and 'Pork Pie' showcasing an impeccable ability to rhyme about Sex, Booze, Drugs, and at times, even your little sister. He's a weirdo. He raps about your sister. Despite only scraping the surface of Dike's persona, these tidbits should go a way to showing that Dike is something of an anomaly, a tricky equation. In fact Dirty Dike's talent and ability is nigh impossible to sum up in one review. He is a man of many attributes and indeed flaws, which comes together perfectly in his music. With subject matter ranging from the aforementioned all the way to matters of religion, life, love and depression, Dike certainly doesn't come across as a boring MC, and this new record is no exception.

From a first listen I wasn't sure what to think of it. To start with, the album didn't feel the same as earlier projects, which despite having moments of 'depth' (particularly 'The Sloshpot' EP,) were far more recognisable for their in-your-face and belligerent style. After a few listens to these new tunes however, it became clear that Dike has really matured as an artist. It would seem that his unique production skill and ear for a beat have really allowed him to up his game. When it comes to writing and production, we are presented with a more self-aware and polished rapper than we've seen in the past. It was clear from the get go that he wanted to explore himself and dig deeper into what makes Dirty fucking Dike who or what he is. I would argue that on many levels he succeeds.
The album opener 'Great Attempt' featuring High Focus mastermind Fliptrix kicks the LP off in style. Dirty Dike introduces himself perfectly in the first track saying, "welcome to the fat naked version of a great attempted person" and Fliptrix brings through some dope rhymes which shed light on the High Focus Fam and its rapid growth to becoming the most important label in UKHH. However the beat here is the real standout; spellbinding pianos and a crackling effect are backed up by a pulsating melody that really draws you in. The lack of drums only serves to underline the lyricism as a statement  of intent for the album. The next track 'Alcoholic Tosser' is another standout, in which Dike addresses his problems with alcohol and other substances in an ironically sober and eloquent manner. He writes, "I know it takes a man to slap a drunkard to his feet" following with "who's brain is who's mate I can't be assed slap myself." Again the instrumental here is a winner, as are most on the album, coming through with a rowdy up-beat sound to match Dike's rapid-fire and impactful lines.


The next track is the absolutely astronomical first single 'Ain't got a Clue.' It is difficult to describe the feeling when I first watched the music video. It seemed to be everything that Dirty Dike is, while at the same time feeling so hard hitting and refined. Lyric-wise this track is very typically Dike, with lines like, 'I'm about to phone your mum a cab, sober up you slag' yet at the same time it seems less playful and more serious. The beat to is rich, layered with eerie strings, bass and heavy drums with a fast paced metronomic tick. The track progresses and we are hit with whirling and cerebral electronic sounds that top this tune off perfectly. As the album continues we aren't short of bangers; another favourite being 'Isleham Swamp.' This second single on the album highlights Dike's evolution as an artist from his earlier days on 'Constant Dikestar' (2011). Delivering lines like, 'friends trip, get a bitch and a check quick, and act as if weren't represent to the death shit' Dike breaks through the surface of his eccentric, bad-boy image to show us the thoughts and feelings within. Not only does the track boast one of the best hooks on the record but the beat here is crazy too, with some super chilled piano samples and nice vocals on the hook. 'Prawns' delves further into the real persona and mind of Dike, with a whacky/funky beat and a hook reminiscent of that on Pork Pie ("Move by, man I'm too high, sucking on these prawns in the moonlight") this song embodies Dirty Dike's larger than life, yet convincingly real nature.

Moving on, we have 'Takeover', in which Dirty Dike and his fam Remus bring forth a barrage of mega bars, laid over possibly the hardest boom bap beat I've had the pleasure of bopping to in a while. The next track 'Paper Tigers' is another instant classic and  any UKHH fans dream. The verses from legends Chester P and HF label mate Verb T serve to make this track a melting pot of lyrical perfection, with 'Chessa Chess' dropping bars like "advising these worldly sailors to steer from the path of pirates" this is one you can't afford to miss. The track 'Me and You,' featuring the otherworldly Jam Baxter, is hilarity and genius, summed up perfectly by Baxter's first line, 'I'm straddling a pig, you're a maggot in a wig.' Probably the most playful track on the LP, this one was definitely one of my top picks.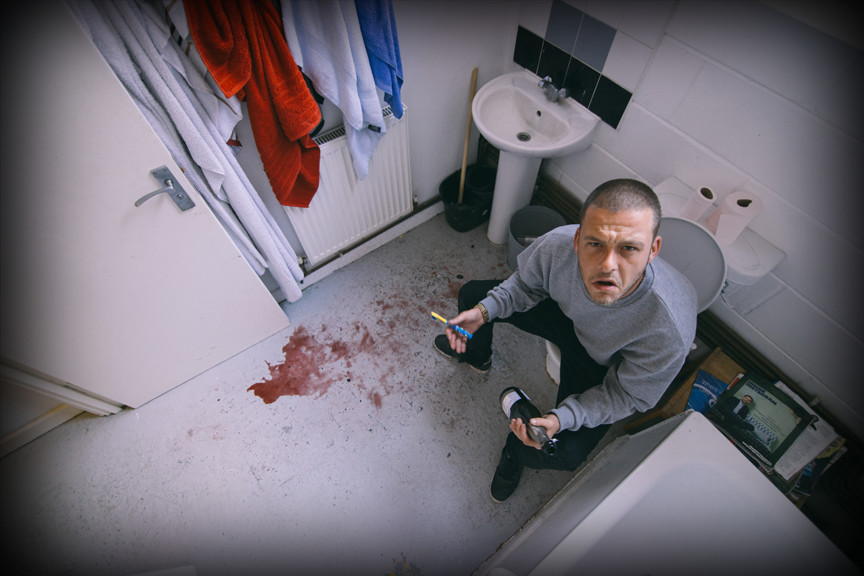 Dike's lyrical range is stretched even further with the tracks 'Crystal Cindy' and 'Hold my Hands,' the first of which demonstrates Dike's masterful storytelling and his astute observations of people. The image of the open hearted but drug blinded Cindy we receive in this song is heart wrenching and Dike's delivery and bars on this tune are insane. 'Hold my Hands' is an equally crazy track. Dike's comes through with one of the realest and darkest fan dedication tracks I've ever heard, and the 'hold my hands' vocals on the hook give a real alluring air to the tune. There are so many tracks on here that show Dike's growth as a musician, it is very hard to analyse them all. For the last track, 'Posse Cut 8000,' Dike hires some of the UK's finest to join him in an anthem finish. Featuring HF newcomer Ocean Wisdom, Taskforce descendant Remus, the ever insane Jam Baxter, $weg-Lord Lee Scott, and London legend Dabbla, this last tune is a BANGER!

Looking back, the production is what really stood out on the first listen; each track on this album has a carefully crafted beat, from the monstrous 'Ain't Got a Clue' and super chilled 'Isleham Swamp' to the darker sounds of 'Feast' and 'Mallory and Josephine.' I wasn't disappointed after Dike kept his beats up to the high standards he has set with recent work, such as his masterful  input into Lee Scott's recent Butterfly. The album doesn't really have an ongoing theme, yet it doesn't really need one. This LP is beautiful in that beyond the bluster and banging beats, it feels like we are being shown these genuine, vivid windows carved from the true mind of Dike, who he is, what he thinks, what he sees around him. Of course it wouldn't be a Dike album if there wasn't a healthy dose of what he finds amusing! And there is. In fact despite so much evolution with this latest LP, there's no denying that he is the same 'Twat' that he's always been. In his own words from the last track, 'Posse Cut 8000,'he's 'still going to rack lines up with a snorkel' and even 'watch porn films on pills like normal.'
Album Info: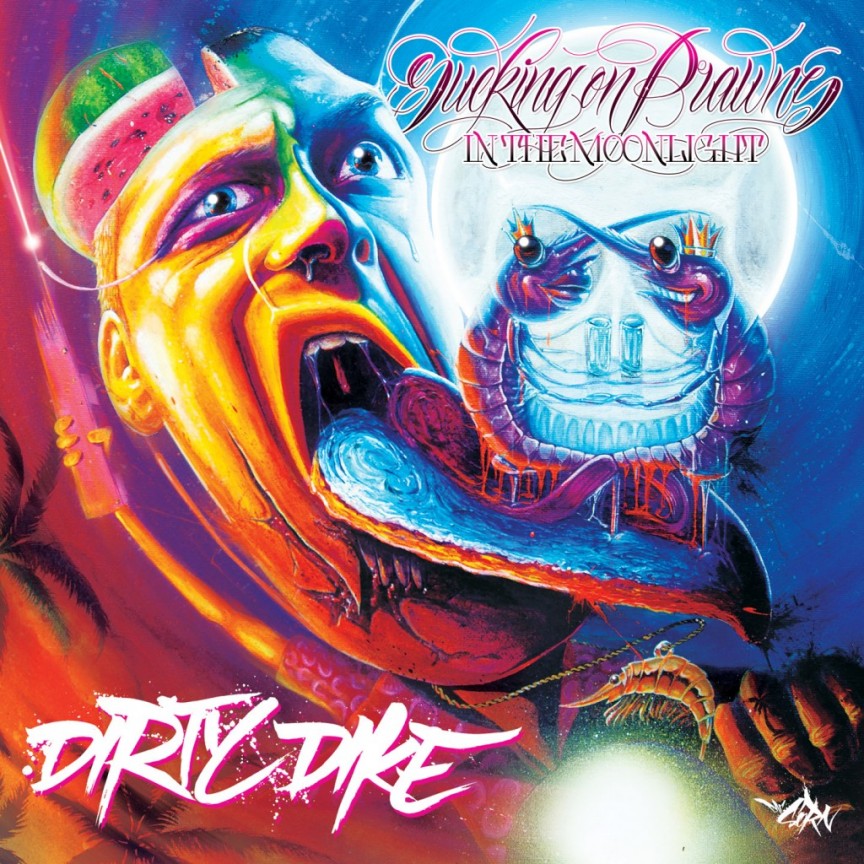 'SOPITM' on iTUNES: Sucking on Prawns in the Moonlight – Dirty Dike
'SOPITM' on CD: http://bit.ly/1iycqap
'SOPITM' on limited edition vinyl: http://bit.ly/1uyfxh2
Order 'I Ain't Got A Clue' digital single: http://bit.ly/1mxrthu
Dirty Dike Social Media Links:
Dirty Dike on Facebook: http://www.facebook.com/Dirtydikesmb
Dirty Dike on Twitter: http://www.twitter.com/DirtyDikeSMB
Dirty Dike on Instagram: http://www.instagram.com/DirtyDike
[x_share title="Share this Post" facebook="true" twitter="true" google_plus="true" email="true"][author title="About the Author"]