Thursday night around 6pm, I arrive soaked through at the entrance of IKEA. I make my way inside and check my phone to see if I've had a response from Clive. 'I'm in the food court' I send, eagerly scanning the faces of tired shoppers scramming down their meatballs, trying to spot a sign of my interviewee. 'I'm already in the sofa section' he replies.
After making my way through the various flat pack home displays downstairs I stumble upon the man of the hour, knee deep in a bag of assorted nuts. 'Nuts?' he asked after we've exchanged pleasantries, I respond that I don't like nuts, we have a mildly infantile giggle at my choice of wording and move past it. Clive guides us to one of those pre-made living room set-ups, complete with working fireplace and plush sofas, where we take our seats. It is only at this point that I have time to take in my surroundings; I'm about to interview Dr Meaker in the sofa section of IKEA.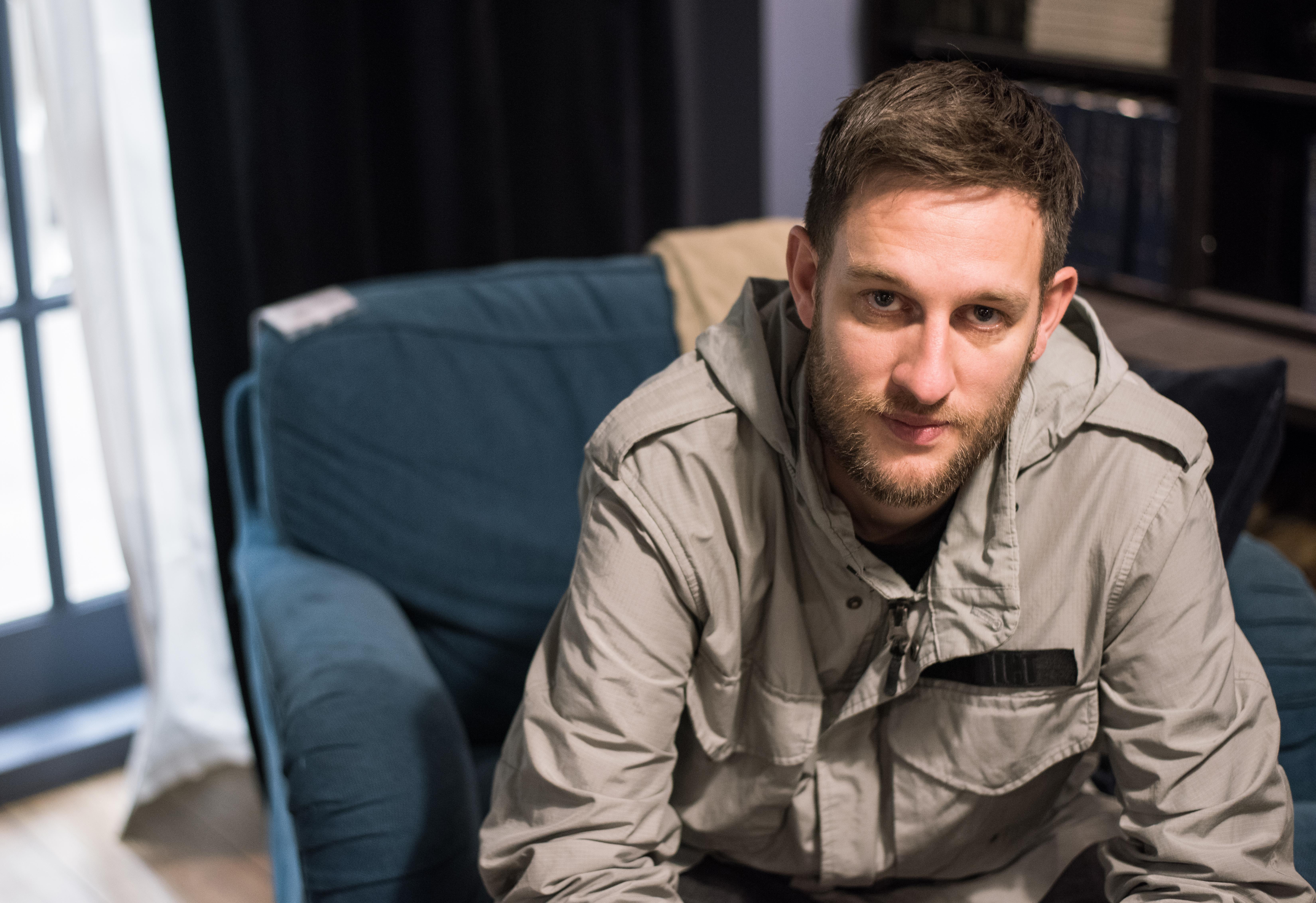 It's been a year since their critically acclaimed album Dirt & Soul dropped on Circus Records, landing straight at number 3 on the iTunes electronic chart and taking the title of number 1 selling Drum & Bass album in the world on its release. Since then the band have been travelling the world with their own unique take on the Bristol sound, so it seems only fitting to collar the man behind the music and see what he's got in store for us next, including his new album and recent adventures to South Africa…
So tell us about South Africa, was it business or pleasure?
It was both. A friend got married out in Vryburg, which is right out in the country, so I got to see three different sides of South Africa. She was out in the sort of farming country and it's like the Wild West! We were shooting guns; 9mm's and a magnum like what Dirty Harry had. We weren't shooting animals, just stones in a field but it was pretty mad. I had this mental experience where one of the chaps was getting all excited showing me his gun, and he didn't realize it was loaded. He's just showing it off and he just points it out in front of me, about a foot away from my head, pulls the trigger thinking there's no bullet in there, goes through these two fan heaters, hits the wall and pfft. Probably the nearest death experience I've had.
We moved on after a week from that and then I was on a solo travelling experience for myself, where if I came across contacts through music so be it but I wasn't looking for that really. I went to Johannesburg and stayed there for nearly a week, and then met some really cool people, some travellers and then a few of those also went to Cape Town and I met up with some of them there and we climbed up Lions Head, which was sweet.
I saw the photo, one of you on the point (laughs) it looked terrifying!
I was terrified! I didn't want to stand up! And they were all saying go on, go on and after it they said 'you know someone died here a couple of weeks ago'.
Well that's not going to boost your confidence, is it? At least they told you after…
That's exactly what I said!
When I was out there I met this guy that's been supporting our music. He's called Das Kapital and he's on the radio station which is like Radio 1 out there, its called 5FM and he's sort of introducing all the British acts over there, sort of like an Annie Mac or something like that. I met up with him the night before I left and he's really up for playing more of our music and getting involved and stuff so yeah, it was good. I think I'll go back with the band or at least ill go out and DJ or something, we'll see.
That would be such a vibe taking the band out there! Do you think that because you guys perform electronic music in a live setting, people who wouldn't usually be attracted to electronic music can connect with and enjoy your music more?
Yeah, I think when people stumble on it and they see it in that capacity then they realise that it's cool. But it is difficult being the band that we are because the d&b scene, which is what we are really is predominantly a DJ scene and it started like that and so there's always this gap. If you're a massive DJ then you can tour the world really easily, there's one of you not nine of you. Most clubs are really just equipped for DJs, they aren't prepared for the live sound. We are d&b though and we do have a backing track that's a heavy produced sound, we choose to do that. Then we've also got three horn players, three vocalists, live bass, live drums, live keys and synths that we bring together. Just having that many of us on stage going mental translates and people just get into it and if their preconception is 'I don't like drum and bass' they see us and say 'God I didn't realise I loved drum and bass' because they're seeing it in a different way.
If you think back, bands like Reprezent, Red Snapper, they were doing it live, it's just become much more DJ orientated these days. We started doing this in 2003 with this band, I was doing it before that from about '98 'cos I'm quite old (laughs) so it's been live all along. This is a real organic live band doing it proper old school style, and it's working.
Bristol historically has deep roots in Soundsystem Culture and the underground electronic scene, do you think the culture surrounding the city has helped to inspire and push your vision forwards?
Bristol is an inspiration in general. Massive Attack were one of my favourite artists and with Bristol being my local city, knowing that Massive Attack and Roni Size came out of there and then the amazing drum and bass scene, it just drew me to it.
My favourite artists though were the Prodigy, and so they've been my role models really in terms of having the backing track but then Liam would also play stuff on top, and there would be this massive entertainment factor as well with their vocalists. I love Bristol. I grew up the other side of Glasto on a farm so it's my local city. But no matter where I would go I would've always followed this same path with the live band, being inspired by other live dance acts of the 90's; bands like Asian Dub Foundation and Chemical Bros.
So where did it all start for you?
So I started doing it in the fields where I grew up at free parties. We would buy the sound system bit by bit over the years, and I used to ask the local farmers to use their fields. We were 15 when we did our first one. Someone's dad would know someone who had scaffolding so I'd drive the tractor and trailer over, pick it up, give the farmer a bottle of whisky and we'd set up the rig ourselves. We'd get all of my mates together, it was our mission and I was kind of at the head of it, but everyone would pull in together and it would be our party.
We'd charge a quid on the door to cover costs, and you'd get people from all over, it was called the Pre Pilton Party, (laughs) a week before Glasto and it was like, ok so this is how we'll play so we can DJ; we'll hold our own parties. I then went on and bought a Roland SP808, then three of us started a band down in Somerset called Chemical Frequency which was signed to MCGQ's label in 2001. We started to get airplay on Radio 1 with Fabio and Grooverider and just kind of evolved from there.
For two genres at complete opposite ends of the spectrum, what made you want to bridge the gap between live and electronic music?
I wanted to do everything. I wanted to make really downbeat trip-hop music as well as D&B and I sort of always thought I didn't want to just stick to one thing so over years I've tried loads of stuff. I had strings players, guitars for a while, bass players and rappers and it's always been flexible and fluid. Sometimes we'll ask 'What do we feel we need?' And some people might suggest extra horns, for the harmonies or whatever and I guess I always just liked being part of a group. I like having a squad, and I've always thought it's important to do music properly, to have a clue about it.
At 16 I didn't know how to play much at all, I've had to teach myself and I like being around other musicians who can express themselves, there's just a lot more soul in it. But I also like mixing the two because if you just have the live stuff it can sound like bands of yesterday and the past, but its whatever works for you and the sound I want is that hard, tough, produced sound but with the live instruments, so you get the best of both worlds.
You have a core group of musicians who make up Dr Meaker, but you're known for collaborating with various artists and giving them a platform to promote them also. Why do you like working collaboratively so much?
My ex-manager said I'm a magpie (laughs) like, you see something shiny and you want it. As a producer, you can feel like things can get a bit stagnant working with one person all the time because people come with their own sound. You can experiment with them but once you've evolved you feel like you get to a point where you can't get much more out of them and that's why you collaborate with different people, so the singers are always getting to work with lots of different producers and visa versa.
With nine people to take into consideration, your writing process must be pretty intense, talk me through it…
It's changed a lot. For nine years Lorna and I worked together and Lorna is no longer in the band so I'm kind of going through a period of change, trying to find someone that I can write with. At the moment I've been experimenting working with new people to see what clicks but sometimes I find it difficult working with vocalists. Sometimes you get a huge personality but they might not be quite up to scratch on their writing, or they could have an awesome writing capability but their stage presence isn't quite there yet, so it's finding the right combination of people that are happy with their roles and to work together. I usually find ill start with chords and build a very basic rhythm track, then put it to a vocalist who will put their ideas down, send it back to me and then go from there. Other times I might just have a sample, which is enough to kick things off, or the vocalist might take the lead, it's a variation of all those formulas.
You mentioned festivals earlier on, how was your summer? What were your highlights?
We did a lot this summer and it's gone so quickly as it always does! It's really been a step up for my DJing this year, I played at Amsterdam for the AFT crew and also Boomtown was without a doubt the best festival this year, it was brilliant. I played three shows there and they were just amazing. The energy just felt like Glastonbury years gone by, it just had this freedom about it. I didn't see a single corporate sponsor; it just felt like somewhere different to go. Other places we played were Nibley fest, which was really good. It's quite a small one near Stroud and that was brilliant; a local festival with such a great energy.
South London Soul Train is good one too. We've hooked up with some guys there that are really supporting us in the clubs and that's a lifeline for us right there, because like we were saying earlier clubs are shutting down. If you're a massive artist you can get into the 02 academy, if you're a small artist you might get into Crofters or Attic but you don't get paid that much. For artists like ourselves, we've got a certain prestige. We're kind of in the middle; as an always-touring band. There's not that many venues that can accommodate our fees and setup so Soul Train has been really good. Things seem to be evolving; it's been a great year.
What about upcoming gigs, what have you got in the pipeline?
We have a lot of festivals lined up for next summer. We also want to go to Europe and have been talking to some people with links at the minute and like I said I went to South Africa and made some links out there and looks like well be there next year, so yeah things are ticking nicely off the back of the last album and we've got a new album coming out.
Do tell…
So the album Dirt & Soul came out on Circus Records last July and that album was an artistic album, an expression of how I felt. It wasn't made for the dance floor and it turned out it was a producers' producers album if you get me. DJ Hazard, one of the top dogs in D&B said it was one of his favourite of the year on Mista Jam's show on BBC R1 and a lot of the scene showed love, it just didn't really get played on the dance floor. We recorded orchestras, choirs, so much music; we really went in on that album but that isn't what people want DJs to play.
So I decided to remix the whole album in a way that works for the dance floor. I didn't want to just give these tracks that I've slaved over away though, and just say 'you go and do the dance floor version' and I don't get any credit. I also want to DJ as well so I decided to remix it and choose people I want to work with.
Making Dirt & Soul Collaborated meant I got to work with some of my idols, and they would get to work with me. So that's what we've done, we've got Break, Digital, Octo-Pi, Terrahawk, Jasper Atlee, Umpire, Aries, Voltage, Serum, Mackey G and DJ Marky…it's a really good project and I thoroughly enjoyed making it. It's ready, it's mastered and the first single is out in December with DJ Marky called 'Deep In My Heart' ft. Lorna King. Then the album is due out in March on Circus Records again so that should give everything a good jump. Then we're going to put on a tour off the back of that with some of the DJ's from the remix album and then take everything abroad, so I'm constantly trying to upscale, I know we'll be loved out there.
What is it like touring with such a huge group?
As a whole, it works really well. The band is tight and we all get along as a team. I can't remember last time we had an argument! If ever we did we'd try and get along and get things working. Tiredness is the worst. (I mention the rise in young DJ's who are finding it hard to balance the constant party lifestyle that tends to go hand in hand with electronic music and the detriments it can have to people's mental health)
It really is just about self-control and the bigger picture. People don't understand problems until they come along, someone like Benga who recently came out and said he had schizophrenia due to lack of sleep. Until it happens it's all fun. I would just say try and get eight hours sleep if you can, you cant always but try and look after yourself, you don't want to be getting into dark paces in your mind because it's not fun.
And what about any tips for musicians who are trying to make a similar career within the industry?
Be methodical and have systems in place. It's really difficult with nine people; if you had nine robots that instantly replied it would be a lot easier (laughs). I keep a spreadsheet because I book my own gigs and I'll ask the band, let them know the details and ask for a response within 48 hours. Otherwise, it can get really confusing. Keep things documented well, be fair to people but not to soft of they'll take the mickey, but not too harsh or they'll walk away because they're not enjoying it. Be fair and let them know what you expect and visa vera. Often the problem is I can't earn enough money for the whole band for a living so a lot of them have other jobs, then you need to make sure they're there for you and their other work so I have to get two of everyone to have the cover, which is why I want more gigs for more money. But we're in a world where we haven't had a hit record…
I find that so hard to believe! You've worked with some huge names; Redbull SBTV, UKF and most recently you won Best Live Act at Bristol Pride (congrats by the way)
We've been on a number one selling album for BBC Live Lounge, and we had a great song with Sian Evans "Right Back" which was getting canned all across the BBC and beyond but it's really down to a playlist team at Radio 1. All of the DJ's were supporting us, the album had a natural fire, it just went off and we had a lot more plays across DJ's shows than other tracks yet the playlist team wouldn't put it in the list. We think it's because it's not on a major label and it would buck the system to do so but in the old days that would have been a hit record (I vigorously nod my head in agreement) but in this modern age without a major label and machine backing us it wasn't going happen sadly. It's ok though; we've done all we can do. We made the record from the heart we didn't make it to sell out, it was still made in my bedroom do you know what I mean? We never set out to make it for the radio and that's one piece of advice for producers; never make a song for the radio or for the public, make it for you from the heart because the most successful records we've made so far have been made in that way.
You obviously knew that Dirt & Soul had the potential there, is that why you've decided to go down this route with the remixed album, to try and get the album the airtime it deserves?
I've stopped caring about radio now to be honest and stopped trying to get anywhere on a commercial level. I wasn't really ever that bothered, to me it's about making music that I love and I think you're more likely to have that success if you do make music that you love and not trying to make it for them, so while I would still like some big records, if they're going to come they're going come naturally, I've got some great tunes in the locker. I do just want to make sure we stay connected to the people who have stayed connected to us, the real fans that aren't just there because you're on Radio 1 and then disappear. It's the same with the artists that support you whatever; these are the ones I care about.
Couldn't have said it better myself. So this is the part of the interview where I ask if there's anything else you want to talk about, fire away…
Just that Dirt & Soul Collaborated will be out in March 2018, oh and I've just shot a video with Ben Dowdon, it's a cool creative project that I'm really excited about. I do have another side project coming, it's an artistic project called 'Bullets'…
Is that all I'm allowed to know?
(laughs) haha yes, you won't see it for at least 6 months to a year but it's coming.
I want to listen to this remix album! I'm excited…Break & DJ Marky are two of my absolute favourites…
Yeah, they're really good and awesome guys; I mean Break is just an absolute don isn't he? Everything he touches turns to gold, and the same with Marky and the guys on the album, that's why I chose to work with them, I wanted to work with my idols, the people who I listen to and have a lot of respect for.
Who would be your ultimate collaborator?
Vocalists? I love Randy Crawford, (laughs) I know she's doing the Jazz circuit and getting on a bit now, but I reckon she's still got a song in her. I wrote to her management actually and asked but they didn't get back to me. Producer? Liam Howlett has got to be the one for me. I actually got the chance to meet him through Circus at a gig at Ally Pally but I just didn't go. They say never meet your idols and I have met some and they turn out to be right twats.
Oh no, don't say that. I'm lucky I've only really met good people!
They're some right arrogant prats out there but I actually don't think Liam would be one of those, from what I've seen of him he's a straight-talking nice guy. I saw all of them actually when I was 16, Keith put his thumb up to me and I was like "I'm ok now, I don't need to meet them anymore".
Clive and I then proceed to spend the next fifteen minutes talking about the annoyance of social media presence and how neither of us can be arsed with it, the fact that Layla Hathaway came out on stage not long ago with Snarky Puppy and sang a chord (a fucking CHORD) and then rounded off our delightful evening with a brief shopping trip around IKEA in search for a new coffee jar for Clive as he had broken his that morning.
I honestly did not know what to expect arriving in the home section of IKEA just two hours earlier, but I can tell you this; everything I had heard about Dr Meaker was true. Clive is a rare breed of musician, one that has obviously taken years to hone not only his musical skills but his personal & business skills also. A perfect mixture of wit and seriousness, work and play, passion and silliness. A humble, passionate and driven individual, it was my genuine pleasure to be in the company of someone who clearly is making music for the love of it and not to line his pockets.
The first single from Dirt & Soul collaborated 'Deep In My Heart' ft DJ Marky & Lorna King is out now and you can grab a copy here. Hold tight for more news on this highly anticipated release in the coming months.