Consider the definition of the word cyberpunk for a second…
A genre of science fiction set in a lawless subculture of an oppressive society dominated by computer technology.
Maybe it's apparent to you that Drum & Bass heavyweight Xtrah wasn't lost for a conceptual anchor when rolling out the foundation for his brand new label, Cyberfunk.
[dropcap]T[/dropcap]wenty eight year old Londoner Yasin Elgohary has forged an impressive career beyond his years; consistently melding together elements of dark futurism, insanely robust grooves and a fervent technical finesse to formulate his own flavour of 170. Since stepping out onto the scene in 2010, Xtrah has repped for the genre's finest including Critical Music, Symmetry, RAM, Subtitles and Metalheadz. Recently however, the headstrong DJ / producer came to the realisation that he needed to orchestrate things on his own terms; retracting from the limelight momentarily to get down to the business of crafting a base for his very own faction, and let it be said that the category of 'label owner' suits him very well.
The Drum & Bass community resonated in excitement last month with the announcement of this promising new imprint, kickstarted of course with the current Cyberfunk tour, the first and hugely successful of which held beneath Vauxhall's arches at Fire with a hand crafted lineup that boasted the genre's greats alongside likely-looking newcomer duo Simple Technique. Having caught up with the Cyberfunk crew; Xtrah, Break, Total Science and Simple Technique at the Brighton Volks nightclub a few weeks backs, I'd firmly implore you to check them out at a venue near you. The energy was unreal, the tunes were firmly on point and 2015's sense of renewed optimism in Drum & Bass was on offer for all who wished to revel in it.
Now on to their debut. Let's be crystal clear; Existence EP pulls no punches. Released this week, the production throughout is scalpel sharp, weighty and effortlessly demonstrates the mood of this new label. Unsurprisingly retaining the trademark tech edge that Xtrah is known for, Existence really leaves its mark on the eardrums, satiating a rapacious appetite within the scene for the stylistic, balls to the wall dance floor contagion contained within this hefty release.
First out the gate is Operator from man at the helm, Xtrah. Perhaps my favourite of the EP, the intro provides momentary atmospheric disjuncture before tearing it apart with blistering reese bass and thunderous sub-low that welcomely emanates a throwback Dillinja feel. This weighty head knocker, punctuated by a scathing mid ranges and a dirty funk groove, is a ready-made battle cry for club systems, bringing to date a classic sound with modern techniques.
Second up is We Exist, a nasty neck-snapper of a track. Xtrah calls to mind the likes of Neosignal's Phace with spasmodic percussive bass work interlocking with surgical precision into tightly wound, rolling percussion. This unrelenting neurofunk style bruiser lays down the pressure making it a surefire hit with respective fans of the genre.
Leading the charge on track three are dynamic up-and-coming outfit Simple Technique with their potent and brooding track, Cold Steppin'. Making a strong case for Xtrah's A&R skills, the adroit duo present their wares on the big stage alongside EP cohorts Xtrah and Break with the acumen and stylish execution to suggest that they are ready for the big time. Having witnessed the pair destroy the place at a recent DJ set on an early Cyberfunk tour date, you can rest assured that these guys are the full package. Cold Steppin' exhibits sophisticated sound design with mid range flair and low passed sub bass that recollects the dark and groove laden works of Octane & DLR or old Vicious Circle. Very nice.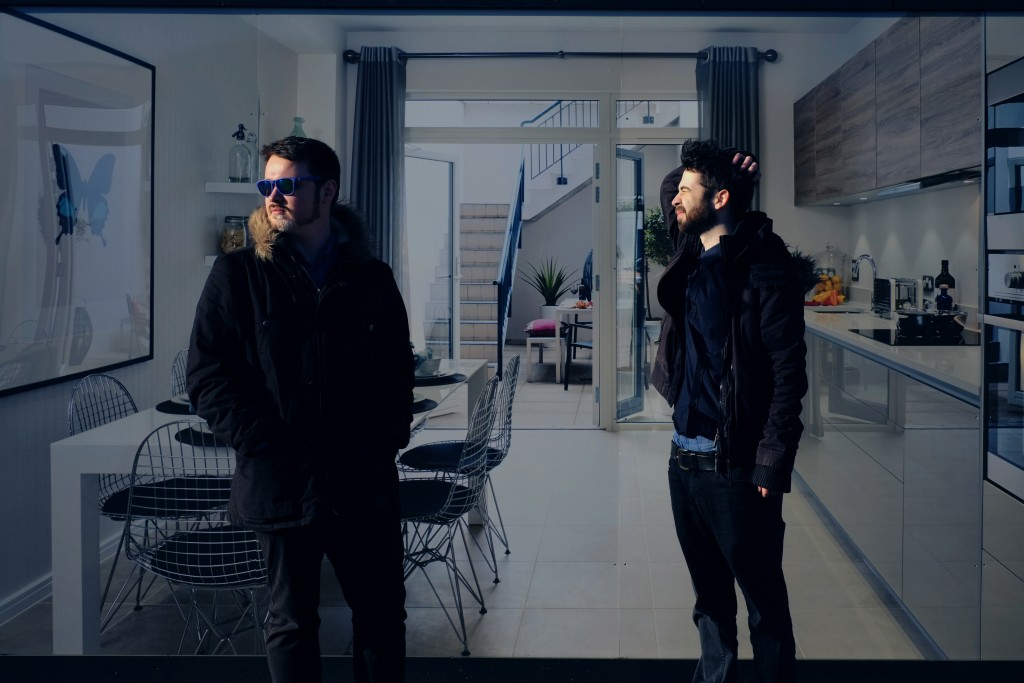 Last up to the plate is the face melting collaboration, Forte, from titans Xtrah and Symmetry label boss / all-round badman Break. Tying up this incredibly strong release with what these producers do best, Forte belts out a powerful female vocal atop of two-step breaks, Xtrah's twisted mids and Break's classic crunchy low end bass. The broad appeal of this track exists within the dynamic between the soulfully deep and gut wrenchingly vicious elements of the tune. Plus, it's pure gold for those who love a substantial helping of wobble with their 170. I'm all for it.
If Drum & Bass is the lawless subculture within our current dystopia then Xtrah and Cyberfunk are the tech-savvy defenders of the craft here to embody that. This is an outstanding first release from Cyberfunk, unsurprisingly considering its vantage point with the label owner's well-established position within the genre. Pairing that with the self-made, DIY ethic of Yasin Elgohary, and his veracious enthusiasm for good music, it's appropriate to expect a lot from this raw, new label.
You can cop Existence EP digitally at Beatport Pro, on wax through Redeye Records and elsewhere through all good record stores.
Be sure to catch the Xtrah and the Cyberfunk posse on their UK and European tour at Bristol's Basement 45 on the 24th April, then onto the Blauwe Kater Jazz club in Leuven, Belgium on the 30th April, Linz in Austria on 30th of May, Cardiff on 8th August, plus after the success of the first event, ears to the ground for the announcement of a second london date set for summer!

Socials:
Cyberfunk: Facebook
Xtrah: Souncloud / Facebook
Simple Technique: Soundcloud / Facebook
Break (Symmetry Recordings):  Soundcloud / Facebook
[share title="Share this Post" facebook="true" twitter="true" google_plus="true" linkedin="true" pinterest="true" reddit="true" email="true"][author title="About the Author"][recent_posts type="post" count="3" orientation="horizontal" fade="true"]