[dropcap]L[/dropcap]ook alive people! Today's a very important day because the king of liquid is coming at us with his brand spanking new EP on C.I.A Recordings, and as I'm sure you've already guessed, it's absolute fire! We've come to expect nothing less over the years from the man (although I still maintain he's some sort of extra terrestrial type creature) they call Calibre. He's been releasing some of the finest drum and bass at an inhuman rate for the last 15 years or so, and is definitely one of the most consistent and talented artists in the world. With a discography you could spend days salivating over, Calibre has become one of the biggest buy on site producers in the genre, and it's business as usual with his 'Dreamz Dub' EP. 
Kicking things off we have 'Another', which comes in with that instantly recognisable Calibre sound; flexing chimes and gentle but impacting drums blend together with a few faint vocal cries, creating a vibe thats strongly reminiscent of that of Calibre's 'Condition' Album from back in 2011. The bass line glides into the track so naturally that I barely even noticed I've started dancing my way to the kitchen. Meanwhile, aggression builds slightly as the track moves along, getting the blood flowing a little, before returning to its relaxed state and sending us back into that captivating world of Calibre, where each minute feels like a second; something thats painfully clear when listening to one of his sets, which seem to last about 5 minutes.
[soundcloud url="https://api.soundcloud.com/playlists/135855631″ params="auto_play=false&hide_related=false&show_comments=true&show_user=true&show_reposts=false&visual=true" width="100%" height="450″ iframe="true" /]

Over on the AA side now and the vibe is switching to something a lot more rowdy. 'Posh Boy' sets off with a tension building intro comprised of a bass drum set to a heart beat like rhythm, overlaid with stuttering high hats and dramatic pads. Suddenly the drums cut and the atmosphere turns sinister, before we're hit with the hefty punch of that wobbling bass line, whose side effects include uncontrollable movement along with severe facial contortions. This ones for those guys in the back with their eyes in their caps 😉 and its guaranteed to have everyone getting low inside the dance.
Next up is the title track 'Dreamz Dub', which is pretty well summed up by its title to be honest. The atmospheric intro sets a placid calming tone along side the tempo setting knocks and hats before some echoing horns announce the arrival of the no frills bass line. The low frequency sub bass really cuts through in this track, giving it the ability to get the whole room shaking in time with those wobbling bass stabs. A fantastic piece of real pure organic drum and bass is what we have here; music that feels like its the creation of man as opposed to machine (not that we don't all love a bit of mechanical sounding dnb), an art that is often forgotten in modern dance music.
To finish off the proceedings, Calibre has brought us a bit of what he does like no one else can, with the beautifully smooth 'Believe It'. Long submerged notes and snappy drums right off the bat set things up nicely for the enchanting vocal that repeats "we believe it". The infrequent snippets of trumpets are an expertly timed compliment to the pumping bass that melds seamlessly into the fluidity of the rest of the track. A lovely little uplifting number to finish off yet another release of the highest quality from the one and only Calibre.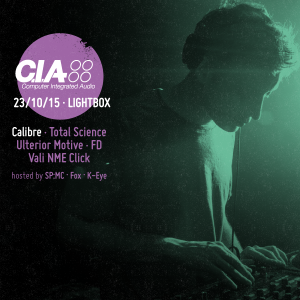 So don't sleep on this one people! Get over to the C.I.A website and grab yourself a copy, and while you're at it I strongly advise picking up a ticket to catch the man himself play one of his dreamy sets, alongside 2 hour sets from Ulterior Motive and the legendary Total Science down at Lightbox on October 23rd. You'd be an absolute fool to miss this one!




[share title="Share this Post" facebook="true" twitter="true" google_plus="true" linkedin="true" pinterest="true" reddit="true" email="true"][author title="About the Author"][recent_posts type="post" count="3″ orientation="horizontal" fade="false"]