Last weekend we finished our festival season with a trip down to Bestival. Having been all over covering some mad festivals this summer like Boomtown and Farr, we couldn't have asked for a bigger finale. The festival sticks out as an iconic favourite amongst festivalgoers for its atmosphere, eclectic lineup and pretty idyllic Isle of Wight setting.
Sadly, the infamous journey down to the Isle of Wight was nothing short of an absolute trek. For those of us (un)lucky enough to reside in the northern parts of England, it's an absolute mission to lug a camping bag, a tent, and a few crates of tinnies through four trains all the way down to Southampton, and then onto the ferry and shuttle to the Isle of Wight. Despite it being such a mission, we knew it was all gunna be worth it for what awaited us at Robin Hill County Park. One of my favourite things about going to a festival is wading through the atmosphere of 50,000 likeminded people all cracking open their first can of lukewarm cider on the first day. There's something exceedingly British about it.
The 'King of Road Rap' Giggs kicked off proceedings at the Big Top stage on the Thursday evening. Fresh off the release of his long-awaited album 'The Landlord' the Peckham rapper brought some classics, such as Look What The Cat Dragged In, whilst also playing some energetic material in from his new album. Whippin Excursion sounds even better live. Shy Fx shortly followed with some carnival-esque vibes and was nothing short of what you'd expect from the drum and bass old-timer. The headliners Hot Chip soon switched up the tempo and wrapped up the Thursday warm-up nicely, playing various hits from their six studio albums.
Friday was definitely a unique one. Wiley brought his famous Eskimo Dance to the Big Top stage from 5-8pm. Eskimo Dance was established in the early 2000s to "get all of the scene members under one roof" and it's crazy that its reached a major festival like Bestival. The new kids on the block AJ Tracey and Elf Kid started off the Dance exactly how it was destined to go on. After generally killing it this year, Section Boyz came out to a big reception with even bigger mosh pits than those preceding them. Skepta managed to join them on stage for their hit song Lock Arff which went down a treat. Big hitters Wiley, P Money, Fekky and Newham Generals soon followed to make for a memorable night for the Eskimo Dance brand and grime itself.
Over at the main stage David Rodigan showed us why he's such a necessity for a festival lineup these days. At one point Rodigan stopped the music to talk about something that some say is killing the dance music industry – ketamine. He shouted down the mic "make some noise if you don't need to take ketamine to have a good time." Suitably, Damian Marley followed Rodigan at the Main Stage, and whilst there were complaints about the quiet sound system, the noise of people's sing-along to Welcome to Jamrock and other hits more than made up for it. The recently announced Mercury Prize Winner of 2016, Skepta, brought the Eskimo Dance sound to the Main Stage to perform his energetic album Konnichiwa. After a rumour spread on Twitter that Drake was spotted in Southampton, some were disappointed not to see the Canadian come out as a special guest for Skepta. Major Lazer put on such a show that meant even those who don't have a huge appetite for EDM could enjoy the atmosphere and visuals. Major Lazer even claimed that "Bestival is the best crowd in the United Kingdom," and Diplo came out onto the crowd in a massive inflatable ball to come closer to those he loves. Having just finished his closing parties for Space Ibiza and concluding his 15year residency, house legend Carl Cox headlined at the astonishing Spaceport stage. It made for a fitting end to a memorable Friday night.
Spaceport headliners; Diplo, Carl Cox and Fatboy Slim.
Saturday started off about midday at Main Stage with the Chuckle Brothers performing their smash hit "To Me To You Bruv" featuring Tinchy Stryder. Always good to see some old faces. Speaking of which, crowd favourite Craig David came to do his garage classics. His crowd interaction was sick and his ability to make every man's girlfriend fall in love with him is equally impressive but I don't really know where that's going these days… Over at the Bollywood tent Kurupt FM brought their own heavy lineup of performers such as Sir Spyro, Toddla T, DJ Target and Novelist. Their own performance was as entertaining as it gets, making everyone crease and skank at the same time. Big up Chabuddy G on MC duties. Over at Spaceport we had techno and house gurus Richie Hawtin and Skream bringing some long anticipated darker sounds. Meanwhile Goldie MBE smashed both an old school hip-hop set and a classic DnB set in the same night, big respect to the chief.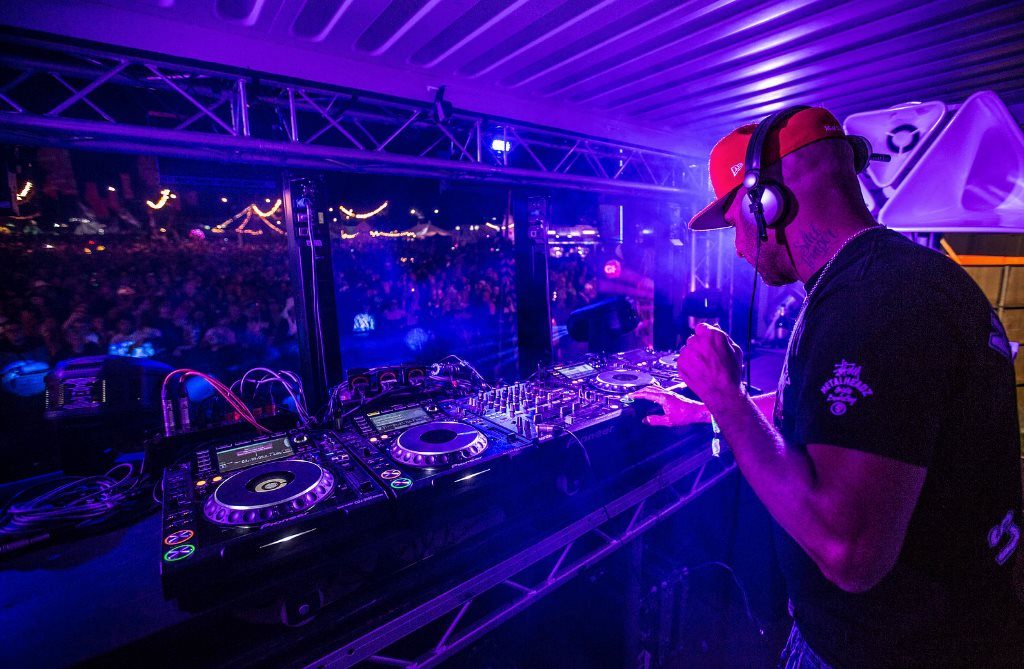 Having killed both his sets on the Saturday night, you might expect Goldie to be on the ferry back to London on the Sunday morning. This is where Bestival is a bit different – at midday Goldie was leading a yoga session. Titled "YOGANGSTER" Goldie led an unmissable hour of yoga with the man himself on the ones and twos. I'm pretty sure stuff like this is why Goldie has an MBE. Soon after the calm yoga session we walked over to the Main Stage where Krept & Konan were leading the crowd in an aggressively chanted "DRUGS, MONEY… ALCOHOL!" – interesting contrast.
One of the standout performances of the weekend came from Kano and his brass band. Admittedly rappers that use live bands can sound horrendous, but the brass band accompanying his bars from his recent hit album Made In The Manor made for a sick performance. Flashback to 2 years ago when I was nearly stampeded by a steel band on stilts at Bestival 2014. Luckily the rain had cleared for T Shirt Weather In The Manor – I wonder if he'd have played it in the pissing rain? Sean Paul was one of the big names performing on Sunday and definitely brought something different to the table. He led nicely into the Main Stage finale with Wiz Khalifa. Wiz always has the ability to create a fun atmosphere. He must have smoked about ten joints during his set and at one point passed round a 20 foot joint (inflatable) into the crowd. He didn't do that when I saw him in Florida over Summer, VIP performance for Bestival. Sadly the Spaceport stage was way too rammed to even get close to watching Fatboy Slim unless you'd been camping out. Bicep playing in the Bollywood tent was a fantastic backup plan and as ever they proved why they're one of the biggest names in house music. In a genre so saturated, their production stands out as a level above the competition. And their set completed a festival that was genuinely a level above most.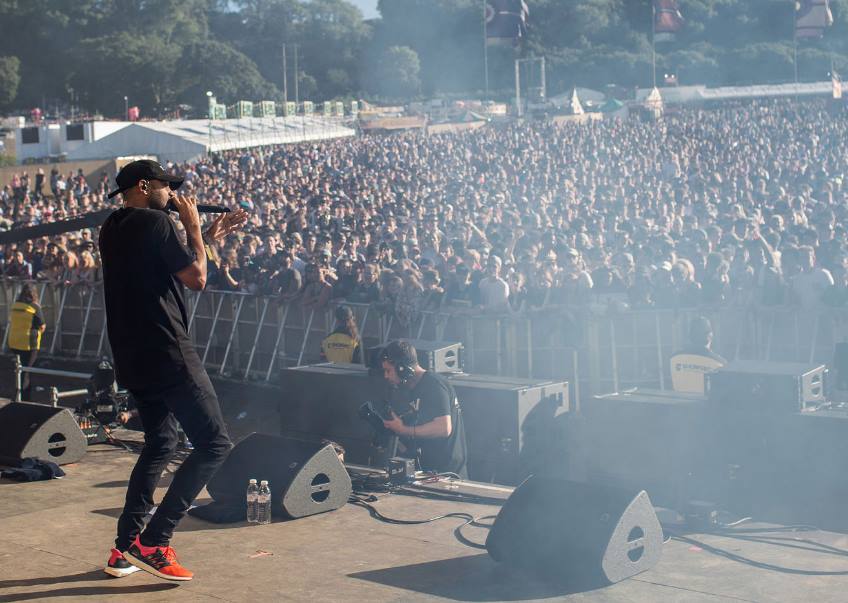 What's so good about Bestival is the atmosphere and spirit. This kind of atmosphere is brought on by curator Rob Da Bank's attention to detail and offering of things beyond music. There is never a dull moment at Bestival. From yoga with Goldie, to the carnival parade, to lectures about the future of consumerism, there's stuff to get involved in constantly. All of these things, accompanying the massive lineup of world class artists, makes for the sickest festival season finale imaginable. Festival curator Rob Da Bank commented on the success of this year's event -"Well, we went to The Future and it was well worth the trip… Another year of interstellar performances at Bestival". A big thanks goes out to the all the people behind the scenes that made Bestival happen, and to all the attendees that helped to inject £4.3million into the locality. We'll definitely be back next year, even if only for more 'Wakey Wakey Eggs and Bakey' – the epitome of sort-me-out-morning-food.
Early Bird tickets including payment plans of £5 a week are already on sale for next year so if you've got them Bestival blues cop them here from Ticketline. Additionally, to relive some of the best moments from the weekend check out Red Bull TV. See you next year!
Cal.
[share title="Share this Post" facebook="true" twitter="true" google_plus="true" pinterest="true" email="true"][author title="About the Author"][recent_posts type="post" count="3″ orientation="horizontal" fade="false"]